Does Homework Have to be this Hard for Parents?
Am I the only one who gazes into the evening sky (right about 8:30 at night), trying to keep from losing my cool with my son as he informs me, "Uh, yeah ... that five page report's due tomorrow." I stare blankly into the night asking, "Lord, what have I done to be punished by my son's homework?" It's not always that teachers have assigned too much. Perhaps, but more often than not it is my child's lack of planning or failure to make us aware of deadlines.

They call the way we learned "traditional," as if we're relics that need dusting. Yet, when my son learned the "new way" to multiply (actually, there's about three new ways), he got confused, looked to me for help, and what did I do? Yes! I taught him the TRADITIONAL way of multiplying which has worked for me, for my grandmother and for my grandmother's people who got off the boat from Greece. So, if it's been working for more than a hundred years (and might I add they were all successful restaurant owners, which I'm thinking means they had to calculate), then the "traditional way" is good enough for my son. Don't get me wrong: I'm not able to teach him "my way" (as he calls it) without a fight. "That's not how they taught me in school!" I respond, "Then do it the way your teacher taught you." "But I don't understand the way my teacher taught me!" he retorts with growing frustration. "Then learn it the old-fashioned way so we can get through tonight and try to figure out the modern way tomorrow." AAARRRGGGHHH!

So ... how do we avoid these less-than-desirable dialogues? The following tips can help: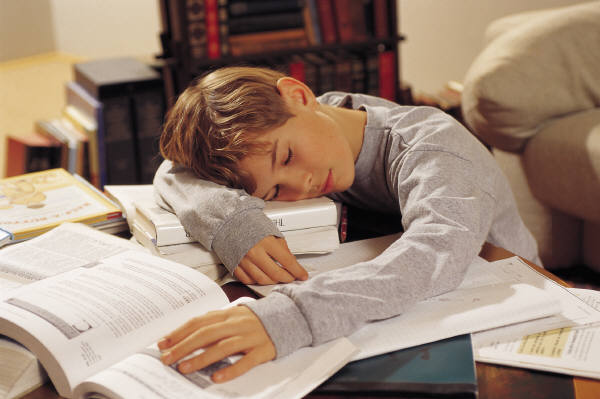 Tip #1 . PRAY BEFORE YOU START THE HOMEWORK ... and I mean EVERY SINGLE TIME.
There is nothing better you can do for you or your child no matter what the age.
Tip #2: Check to see if your child's school has a "Homework Hotline" or website where the teachers post the students' homework requirements.
*Most schools have either a class site or a telephone number you can call to "double check" your child's homework. Once you do this a few times, your student will realize they can't pull anything on Mom and he/she will be a bit more upfront with the homework assignments.

Tip #3: Return your student back to school or take him/her early the next morning.
*If your child is like mine, there will be times when you will hear "Oops ... I forgot my (fill in the blank)." If you live close to the school, bring him back; the custodian will let you in to get your student's forgotten assignment, book, worksheet, etc. (You name it, we've forgotten it!). However, if you're not close to school or simply unable to go back that afternoon, take that sweet cherub EARLY the next morning and have him/her finish the homework in the library or in your car if need be. (If your student rides the bus, contact the teacher that evening and request that your student be allowed to get the homework done during his/her lunchtime or after school.

Tip #4: Have your student use a planner or day-timer.
Many schools provide planners. If they do not, it is crucial to help your student select a planner that fits his/her needs. Sign off on this planner each night so that not only your child knows you're checking it, but also there's written proof to the teacher that you're aware of what work is being assigned. Make entries into this planner permanent ... use pens instead of pencils.

Tip #5 : Stay ahead!
There's a cute, old saying: "Make like a tomato and 'ketch up'," I'm telling you, DON'T LET YOUR STUDENT BE THE TOMATO!!! Help your student learn how to "keep up," not "catch up." Perhaps you'll even be able to introduce your student to the novel idea of finishing things ahead of the deadline. Your child won't like it, but hey ... kids don't like broccoli either but it's good for them to learn to eat it! Teach your child to schedule time during the (gasp!) weekends and/or holidays to work on or finish larger projects or reports. Discourage the old CRUNCH TIME BLUES you sing the night before a project's due. Don't be the one to introduce your child to caffeine-induced wakefulness. Whatever happens, DON'T allow your your little angel to sleep while you and hubby are finishing the Colonial History project on your own. Only bad things grow from this. First, you teach your child that someone else will pick up the slack if he/she shirks obligations. Second, don't put your child in the dilemma of having to come up with an answer when the teacher asks," Did you do this ALL by yourself?" Now you've placed your child at a moral crossroad that he/she should not have to face. How to avoid all that stuff I just mentioned? PLAN AHEAD and keep a CALENDAR marked with all major project dates nearby.
Oh, and if our procrastinating child doesn't get it finished, don't enable their laziness. Let them learn the consequences of their inaction! None of those consequences are truly going to keep our children from being in God's Plan. We are supposed to use such experiences as these to build their characters and draw them closer to God. And so, on those nights when you find yourself gazing into the sky in frustration and despair, remember what you tell your child when he/she doesn't want to do something that you know will build his/her character:
"It's not going to kill you -- now get busy." TOUCHE'.
Copyright © 2008-2015 Cindy Aitken
Read more about the writer: Cindy Aitken
---
Post Your Comment...
---