Melinda's Story: A Healing Miracle
"Heal me, O LORD, and I will be healed; save me and I will be saved, for you are the one I praise." Jeremiah 17:14 (NIV)
Larry and I were thrilled that the Lord was directing us to pursue a missionary appointment full time. We had been on several short-term trips and always knew that someday God would allow us to spend our lives overseas. We were in the last few steps of our application process, which required several medical tests and exams.
On Feb. 23, 2001, I went for my final medical requirement which was to have a routine mammogram. The nurse even questioned the reason I was there, and I was able to share with her about my family's decision to be missionaries.
However, within a few days, the routine mammogram was not so routine. My doctor called to tell me that there were some areas of concern from the mammogram.
On March 2, after an almost three-hour consultation with the cancer specialists, we were told that it would be necessary to have a surgical biopsy and remove the entire questionable area. Instead of feeling overly afraid, I just wanted to know how soon the procedure could be done. I was praising God that we had applied for missions, and that through this the cancer had been detected. With very little notice,the surgery was scheduled for Monday morning. I left the office that afternoon, anxiously awaiting the surgery day so this problem could be taken care of.
That weekend as we sat in the Sunday morning worship service, I felt a confirmation that God would heal me. I left the church that morning and called the hospital and cancelled the surgery. I didn't cancel it out of fear but strictly out of obedience to the voice of the Holy Spirit. I contacted M.D. Anderson Cancer Center and got an appointment with a breast cancer specialist. I felt a peace and knew regardless of what the next few days or weeks held, my life was in the Lord's hands. God had confirmed our missions calling, and He would perform what was necessary to get us to the field.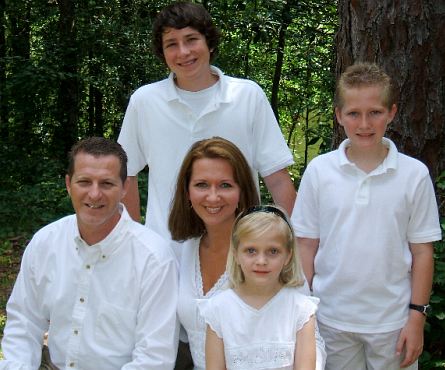 On March 29, we were at M.D. Anderson for my first mammogram. After reviewing the films, the doctors felt I needed to have an ultrasound. The ultrasound confirmed a mass three centimeters in size, so I was sent for a core biopsy with the radiologist, Dr. Tanya Stephens. The biopsy results showed that the cancer was much worse than they had expected. We were now looking at invasive breast cancer, and they were ready to prep me for chemotherapy. More blood work and a chest x-ray were done. I would need to have chemotherapy and radiation first, and then removal of the tumor would follow. An appointment was made for me to meet with the oncologist where I would have a bone scan and liver ultrasound, and then my chemotherapy would begin. The picture was not bright. However, on Monday, April 2 at 9:15 a.m., I received a call from the radiologist. She said, "Melinda, your core biopsy has come back and there is no cancer." She continued to say that there possibly was an error, and they wanted me to return for a second biopsy, this time doing a stereotactic procedure.
Dr. Stephens continued, "I know you're a praying woman; this is unbelievable."
Two hours later, Marita, my nurse practitioner, called to tell me the date of my oncologist appointment for the chemo to begin. I asked, "Have you not talked with Dr. Stephens? She called me this morning and said the biopsy reported no cancer and I am to come back for a second stereo biopsy." Marita was stunned! She replied in disbelief, "This has been a considerable downgrade. Let me get the information, and I'll call you back. Just keep praying; this may come to nothing when it's all over."
So that's exactly what we did, and through the few days that followed there was a heavenly peace. Marita called back to say the stereo biopsy was scheduled for April 12. We once again made the trip back to M.D. Anderson. They performed the procedure, and I waited for the temporary results. The tumor was very visible, so they took two more mammograms. I left with hopes that when the results came back, they would confirm my healing.
The phone call I was waiting for came on April 16 at 11:05 a.m., saying "Melinda, you have received your miracle. There is no cancer." Just like that, it was over. God had done an incredible healing. This healing was visible to the whole world through the documentation of the MD Anderson Medical staff. Medical clearance was granted for my family and me to continue our journey as foreign missionaries, Next month we will celebrate eight years of missionary service.
Please know you are not alone in your battles. Our Heavenly Father fights them for us; the battle is the Lord's. ( I Samuel 17:47). God still heals, and even when things come in our path, HE still will be our guide if we are attentive to His voice. I am so thankful for His healing, and I encourage you today to move your trust in the Lord your God to a new level of expectancy.
"Now to him who is able to do immeasurably more than all we ask or imagine, according to his power that is at work within us, to him be glory in the church and in Christ Jesus throughout all generations, for ever and ever! Amen". Ephesians 3:20-21 (NIV).
Click Here to Listen Now...

Hear My Testimony
Copyright © 2008-2015 Melinda Henderson
Read more about the writer: Melinda Henderson
---
Post Your Comment...
---