< Back to Kitchen Keeper Recipes
Tomato, Mozzarella, and Basil Tortilla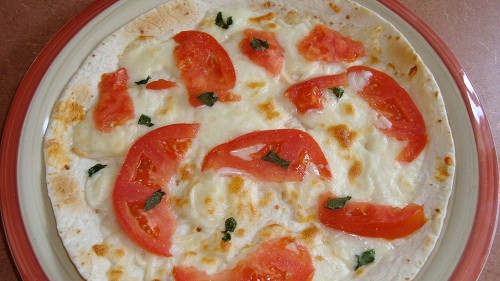 With summer in full-swing, this time of year, I can't help fighting the urge to plant an herb garden. Ha! Try weeding that all summer with three little ones in the heat! I have discovered a short cut way to enjoy my fresh herbs with much less work. I make a trip to a local greenhouse or nursery and purchase herb plants already potted and well on their way. In fact, when I bring them home, I can start using them immediately. Some I keep in pots on my kitchen windowsill and some I replant to pots on my deck where my "mini garden" will be more manageable. Even if you don't have time for a garden, you can buy just one small herb plant and expand your summer menu. Here are some "fresh" ideas to use basil.
*Prep time (5 minutes)*

Ingredients:
Flour tortilla
Tomato
Shredded mozzarella
Fresh basil
Garlic salt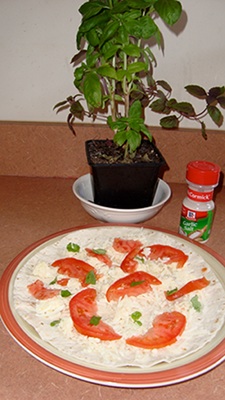 Directions:

Sprinkle tortilla with cheese
Add tomato slices
Snip some fresh basil leaves from your plant with kitchen scissors and then cut the leaves over your tortilla into smaller pieces.

Sprinkle with Garlic salt

Put under broiler until cheese starts to melt and bubble. If using an oven broiler start on low and experiment to see how your oven broils – be careful not to burn the basil leaves. I use my broiler in my toaster oven and it is super easy!
Copyright © 2008-2015 Dorena DellaVecchio, Ph.D.
Read more about the writer: Dorena DellaVecchio, Ph.D.
---
Reader Comments...
2010-08-03 08:25:13
"YAY, Dorena- that's awesome and tasty!!! thanks for sharing and much love to you today!!!!"
- Gina
---
Post Your Comment...
---