A Picture of Grace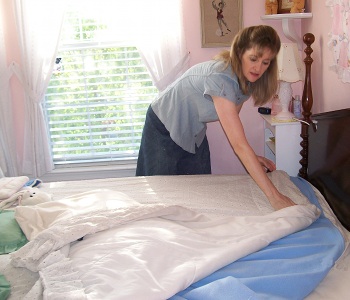 Just the other day I found myself becoming irritated while waiting upstairs for my oldest children to join me in our Tuesday morning "upstairs" chores. We had finished breakfast, cleanup, morning devotions and worship, and we were ready for the next item on the daily to-do list.

I had completed my portion of the chores (the high-up dusting and tricky toilet spots), and I felt my agitation level rising as I heard my children laughing and playing together downstairs without a care in the world . . . certainly not a thought toward doing their chores.

As I was ready to do my "warning clap," the Holy Spirit stopped me immediately and spoke to me the words I had prayed that morning: "Lord, I long for my children to love and prefer one another. Please knit their hearts toward each other . . . that they would be best friends throughout their lives."

My perspective changed and my frustration faded— and I stood and smiled . . . thanking the Lord for answering my petition that day and thinking about how delighted the Lord must be when we joyfully get along with our fellow brothers and sisters. Then I felt led by the Lord to pour grace all over my children and do their chores for them!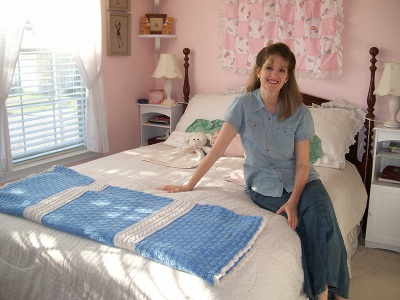 Still giggling, after about 20 minutes they all ran upstairs ready to clean and were overjoyed when I told them, "Your chores are completed!"

I used this lesson as a wonderful opportunity to teach them about God's grace . . . His unmerited favor. Our behavior can never be good enough—"For by grace you have been saved through faith, and that not of yourselves; it is the gift of God . . ." Ephesians 2:8 (NKJV)
The grace of the Lord Jesus is the most beautiful thing in the life of a Christian . . . something that will probably take a lifetime to understand. I am compelled by God's grace that has been lavished upon my life. What's more, it is that grace alone that propels me toward the life I live and the relationships I nurture, especially those with my husband and children with whom He has blessed me.
Today, try making your children's beds for them when they're not looking, and let it be an opportunity to teach them about the grace of God—something we will never deserve—in a real, tangible way.

Grace to you today!
Copyright © 2008-2015 Alyson Shedd
Read more about the writer: Alyson Shedd
---
Reader Comments...
2009-06-08 19:44:54
"Alyson,
I absolutely loved your article!! It is so true, God gives us Grace everyday. I also am so busy making sure my children do their chores, I sometimes forget about Grace for them.
Amen, sister!!
Theresa Januska, mother to two blessings from the Lord!!"
- Theresa
2009-06-01 16:01:12
"Alyson,
I was convicted by your article. Thanks so much for the reminder!!! Sometimes I focus too much on training and forget the "Grace" part! I loved the making their bed example - great idea! I am already thinking of picking up toys :)
Blessings "
- Dorena
---
Post Your Comment...
---