< Back to Kitchen Keeper Recipes
Applesauce Jello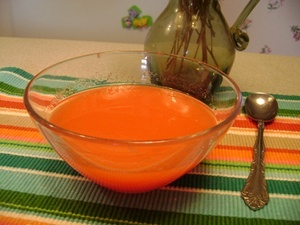 My mother-in-law Shirley Shedd has made this as a side dish for many years, and I've loved it! It is delightfully refreshing for a summer time side dish with my Lime Grilled Chicken (see May issue!).
Ingredients:
2 Boxes Raspberry Jello
1 large jar applesauce (cold)
Directions:
Pour contents of Jello in large bowl.
Add 2 cups boiling water and stir until dissolved.
Add cold applesauce to Jello and stir until mixed.
Refrigerate until firm
(This would be pretty in a mold for company or a ladies' luncheon. :)
Copyright © 2008-2015 Alyson Shedd
Read more about the writer: Alyson Shedd
---
Post Your Comment...
---