< Back to Poems & Creative Writings
Soapy Susan
Dear Parents,

Sometimes a story speaks louder than a lecture to kids. Now that my children are familiar with the following funny tale, I can simply ask, "Do you need to pop your bubble?" and little minds instantly connect this story with more important real-life applications. Try it with your own kids for good clean fun.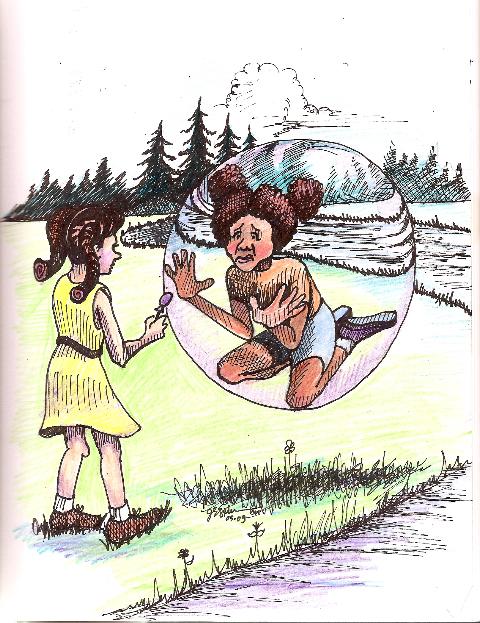 Soapy Susan

Susan's mother kissed her good-bye as she climbed onto the bus for summer camp. "Be careful not to touch poison ivy while you're in the woods!" her mother reminded. Susan boarded the bus with itchy thoughts of red rashes that kids get when they touch poison ivy. "Eeeeww!" she thought. "I'll never touch that!"

On the bus ride, Susan sat next to Polly, who shared a grape lollipop with her. "Have you heard about the ushy gushy greenies at camp?" asked Polly. She had been to Camp Hanover last summer, and couldn't help showing off a little. Polly proudly told Susan about the time she peeled an ushy gushy greeny from the side of the pier at the pond, and threw it at Anna. It stuck to her leg. "Eeew!" thought Susan. "I'll never touch one of those!"

They arrived at Camp Hanover just in time for lunch. The sloppy joe sandwich on her plate made Susan think about ushy gushy greenies. She didn't feel very hungry anymore. "Eeew! I'll never eat that!" she said to herself.

That night was Susan's first time sleeping in a cabin in the woods. It was fun shining her flashlight, singing campfire songs, and hearing the bull frogs creek and croak. But the next morning, Susan woke up with red itchy spots on her legs. "Poison ivy!" She screamed. But the camp counselor said, "mosquito bites," and gave her some bug spray instead. "Eeew!" thought Susan. "I never even thought about mosquitoes!"

Susan raced ahead of the others to the bathhouse for a shower, her head filled with thoughts of ushy gushy greenies, sloppy joes, and mosquitoes. "Yuck!" she thought. She scrubbed and scrubbed to get clean. She made the biggest bubbly bath she could. So bubbly, in fact, that Susan somehow got herself completely enclosed inside a big soapy bubble. "Aha!" she said happily. "This is how I will stay clean at camp!"

Wherever Susan went, she stayed inside her bubble. While the other kids played hide-and-seek in the tall weeds, she floated above the field where everybody could see her. While her team swam in the creek, Susan floated on top of the water and never got wet.
She could bounce gently along the path to her cabin. If she tripped and fell, she had a very soft, bouncy landing. And most surprisingly, Susan discovered that unkind words bounced right off her bubble and never reached her ears. In fact, she couldn't hear much of anything inside it. It was a safe, clean place, but very quiet.

At the arts and craft house, some kids were giggling about something, and Susan desperately wanted to know what was so funny. "Perhaps they are laughing at me," thought Susan, so she bounced quickly away.

Standing in line for dinner, Jason jostled his way to the front of the line. "Outta my way, bubble trouble!" he said to Susan. "Unkind words can't touch me," she thought, watching his words bounce off her bubble. But the words did hurt her inside, just a little.

After dinner, Polly offered Susan one of her grape lollipops from home. Susan wouldn't take it. "It would pop my bubble," she thought. Susan couldn't play the usual games with the other campers for fear that she might pop. Although she felt lonely, she so desperately wanted to stay clean and safe.

But Camp Hanover held one fun surprise that Susan didn't know about until the day before leaving. Far back in the woods, at the top of a tall hill, stood a slippery, sloppy mudslide! On mudslide day, everybody wore old shoes and t-shirts that could get really dirty. "Eeew!" shouted all the girls excitedly when they looked at the slide. "We're going to get so slimy!" Susan floated nearby, nervously wondering what to do.

Polly shoved her grape lollipops into Anna's hand and barreled down the slide first. She landed in a pool of slippery slurry mud, laughing all the way. Anna came next, getting all the lollipops muddy. Then, everyone was slithering and sliding in the muddiest mud bath ever! Except for Susan, everyone was having a marvelous time.

"Why don't you come in?" a muddy buddy spoke from behind.

"Anna, is that you?" Susan asked, trying to recognize a friendly face under the thick muddy covering.

"Come on in," her muddy friend repeated.

"I'd never get clean again!" protested Susan.

"We'll all just take a shower after," said the mysterious muddy buddy. "Join in!"

Susan could only see the clean white smiles on the funny dirty faces of the amazing mud bathers. Everyone was having so much fun. Susan floated to the top of the slide and hesitated. She felt scared, but she sort of wanted to try. So, she jumped down the slide with a loud, "Eeeeew!" Her bubble popped in an instant, and Susan landed with a splosh into the thickest part of the mud. It was soupy and sticky. It was slimy and sloppy. But when she squished it between her toes, she suddenly felt very happy. She laughed and laughed and laughed.

"Shower time!" yelled the camp counselors. All the girls squished back to the bathhouse to get clean. Susan scrubbed mud out of her hair, ears, and even her nose. She got very, very clean again. But after her bath, she didn't climb back into her bubble. This time, she washed all the bubbles down the drain.

"Create in me a clean heart, O God; And renew a right spirit within me. Cast me not away from thy presence; And take not thy holy Spirit from me. Restore unto me the joy of thy salvation; And uphold me with a willing spirit." Psalm 51: 10-12 (ASV)
Original Artwork by J. E. Strohkorb 2009
Copyright © 2008-2015 Julie Strohkorb
Read more about the writer: Julie Strohkorb
---
Reader Comments...
2009-06-18 21:18:57
"great story!"
- Faith, age 9
---
Post Your Comment...
---