The Buck Stops Here
How God Changed My Outlook on Family Finances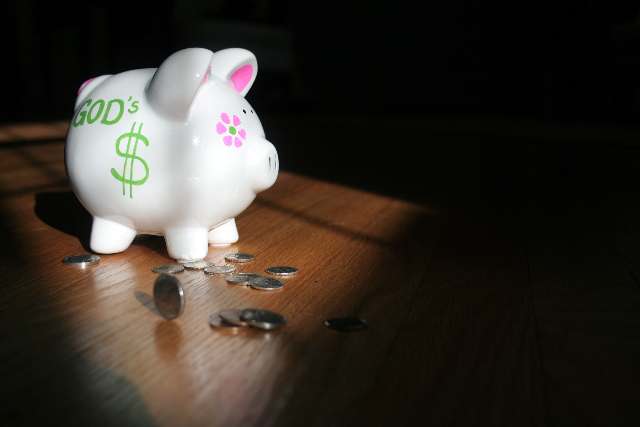 Luke 16: 10-11 Whoever can be trusted with very little can also be trusted with much, and whoever is dishonest with very little will also be dishonest with much. So if you have not been trustworthy in handling worldly wealth, who will trust you with true riches?"
I am a stay-at-home mom with small children. Every hour of my day is packed with responsibility. I am head cook, teacher, laundress, taxi driver, gate-keeper. The last thing I feel like doing with my precious free time is reading a book about finances. God knows this about me, so he used a more creative strategy to get my household budget in order. He put me on my church's capital campaign committee.
"What do they want with me?" I wondered, when I first received the call. Fund raising certainly isn't my gifting. I barely balance my checkbook. But the committee needed a creative writer to research and report inspirational giving stories for the church newsletter. "Okay," I agreed warily. "Just don't ask me to do numbers." Over a period of months, I interviewed generous givers in our congregation who got me thinking about my own stingy heart. Watching and learning from my community of believers, I discovered that my attitude toward money needed a bail-out.
I asked God to help me trust Him more with the resources available to me. Since I was writing stories about campaign giving, I figured I might as well be participating financially myself. I had a vague sense of what I could afford as a monthly offering to the campaign, but I generally felt anxious about extra spending. I didn't budget to the penny, and I usually spent every dime of my portion of the family income each month. Still, I felt compelled to ask God how I could start contributing.
Within a week of my prayer, someone who needed my editorial help paid me twelve times the amount of that monthly sum I had privately considered with the Lord. I realized God had placed in my hands a complete year of what could be my very own campaign pledge. So, I finally pledged! Last year, I offered just my time to the campaign committee. This year, I offer a monthly portion of our household budget, too. No more passing the buck. I've decided that sound financial stewardship is an integral part of my Christian walk, no matter how hectic my schedule or how strained my pocketbook.
And God's generosity toward me didn't stop there. I later shared with an accountant friend my desire to get better control of my finances in order to have the freedom to give to others. She said: "I've taught my daughters all about family budgeting. I'd be happy to help you. Let me come over one afternoon." I eagerly welcomed her into my checkbook filled with band-aids, gum wrappers, and crumpled receipts. She helped me devise an "envelop" system on paper to manage household expenses such as food, clothing, home repair, and school supplies. Later, I could transition to a computer program that would do the math more quickly. She shared budget know-how for which I would have paid an accountant hundreds of dollars. And I didn't even have to read a money book.
Having the financial freedom to give doesn't depend upon my pocketbook, but rather upon my willingness to follow God's prompting at the appropriate time in a responsible manner. My cup has been pressed down and shaken together, not necessarily in terms of cash flow, but in terms of God's overflow of blessing.
Jesus called up a fish from the deep, retrieving a coin from its mouth, to pay an offering I desired to give (Matthew 17:24-27). Money had been the obstacle preventing me from experiencing God's miraculous generosity. When I prayed for God to open my hands even just a little, he provided resources and the education I needed to manage those resources for His glory.
Copyright © 2008-2015 Julie Strohkorb
Read more about the writer: Julie Strohkorb
---
Post Your Comment...
---