Provision In A Season of Lack - Part Two - The Brook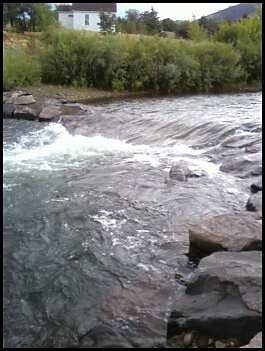 And it happened after a while, that the brook dried up, because there was no rain in the land. Then the word of the LORD came to him saying, "Arise, go to Zarephath, … I have commanded a widow there to provide for you"….so he arose and went to Zarephath, and when he came to the gate of the city, behold a widow was there gathering sticks….But she said, "As the LORD your God lives, I have …only a handful of flour in the bowl and a little oil in the jar… that I may go in and prepare for me and my son, that we may eat it and die." Then Elijah said to her, "do not fear,... make me a little bread cake from it first and bring it out to me… For thus says the LORD God of Israel, "the bowl of flour shall not be exhausted, nor shall the jar of oil be empty, until the day that the LORD sends rain on the face of the earth.'"…So she went and did according to the word of Elijah, and she and he and her household ate for many days. (1Kings 17:8-15 NASB)

Recap
In the June issue we began a discussion on God's provision in a season of lack from 1 Kings 17. We observed that Elijah was supernaturally fed by ravens and naturally provided water from a brook. As a result of focusing on the provision rather than complaining about the lack, he found contentment. We concluded that what we may tend to view as a season of lack is really an opportunity for Divine provision, but what happens when "the brook dries up?

Biblical Exploration
Surely Elijah expected that provision to take him through the famine. After all, God had sent him there. He may have felt that since God supernaturally had fed him through using ravens, He could supernaturally keep the water flowing in spite of the drought. Of course, God could, but He didn't. After a while. due to lack of rain, the brook dried up. At that point, Elijah stepped into total, supernatural dependence. What Elijah could have viewed as a surprise and a disappointment was just another part of the plan of God.

God directed Elijah to a town called Zarephath where He had "commanded" a widow to provide for Elijah. Zarephath was a Gentile city on the Mediterranean, north of Israel. Pagan gods were worshiped in Zarephath. God sent Elijah from the familiarity of his homeland to another nation not only to receive provision but also to fulfill a mission. The same word that was used regarding God's provision through the ravens is used here regarding God's next vehicle of provision

It is the word "commanded" (v. 9). If you remember from our previous discussion, the Hebrew word for "commanded" means "to set up" or "to charge." The use of the word "have" in verse 9 indicates that once again God had seen ahead and provided for His servant. Again, it is an unlikely vehicle of provision.

This provision was to take place in a land where pagan gods were worshiped and through someone who would probably be considered one of the poorest--a widow. When Elijah arrived in the city, he saw a widow. Was it just a widow or was it the widow that God had prepared?

Maybe to test her heart, Elijah asks her for a jar of water, something greatly needed after a long journey. She readily complies so he throws in a request for a cake as well. This brought things to a screeching halt. You see, God had sent him from one place of famine to another.

The drought had reached their land as well and had affected their food supply. Now we see a contrast of her perspective without faith in God and Elijah's perspective with faith in God. Elijah saw his situation as an opportunity to receive God's provision. She saw it as severe poverty and lack leading to death. She could not see beyond her own inability to provide for herself and her son.

Is this the widow that God had "commanded" to provide for Elijah? What caused him to continue the conversation? Maybe Elijah saw in her a potential for faith when she swore by his God rather than by the gods of her nation (v.12). So, he gives her a strategy that would open the door to a miracle for both of them. He tells her to make him a bread cake first, then after serving him, the widow was to make a cake for herself and her son (v.13).

Then Elijah gives her a word from the LORD of continuous provision for the duration of the drought (v. 14). On that word, she did as the prophet requested. Whether it was an act of faith or a resignation to the inevitable, the main thing is that she did it. As a result, God kept His promise and continued the flow of oil and flour throughout the drought for the three of them. Elijah's sensitivity and obedience to God's voice not only saved him but also the widow and her son. Thus Elijah experienced Divine provision and the fulfillment of a Divine assignment.

Observations
The first observation is the revelation of the nature and the attributes of God. This shows clear evidence of the sovereignty of God. Webster's dictionary defines "sovereignty" as "supreme power or autonomy." In other words, He is in charge. He can do what He deems right to do without consulting anyone

In concert with His sovereignty, we see God's omniscience (all-knowing). According to Jesus' commentary on this event (Luke 4:26), God knew where faith would be found. It was not in Israel at that time but in Zarephath. God knew who would work with Him. He knew it would not be among His covenant people caught up in idolatry but in Zarephath to a woman to whom the idols had already been proven useless. 1 Samuel 16:7b (NASB) states, "God sees not as man sees, for man looks at the outward appearance, but the LORD looks at the heart." God says in Isaiah 55:8,9 that His thoughts are higher than our thoughts and His ways are higher than our ways.

Intertwined with His sovereignty and His omniscience is His lovingkindness and compassion. The same love and compassion that He expressed to His servant, the prophet, He also extended to a poor Gentile widow and her son. The second observation is that obedience to the word of the LORD can impact more than the one to whom the word is given. Elijah's willingness to obey and trust God over and above his own preconceived ideas and traditions led to provision for himself and another family.

Lastly, what appeared to be a loss of provision was in essence a change in the vehicle of provision. The source of the provision didn't change. It was still from God. It was the vehicle and the place of the provision that had changed.

Application

What is happening in your life right now? Have you followed God and seen His mighty provision only to find that your brook has now dried up? Has the method of provision to which you have been accustomed and dependent upon dried up? It is easy in those times to think that we have made a bad decision or God has left us.

On the contrary, this is not a time for regret, blame, resignation or fear but rather it is a time to ask God to reveal the next steps that will lead you to the next phase of His plan for provision. It may be a plan that includes the salvation of someone else. The biggest thing on God's mind is always souls. He hears the cries of people and He will do what He can to reach them even if it moves us out of our comfort zones. If your brook has dried up, take courage; there is another door opening for you. Seek God's directive and walk boldly in obedience, trusting Him for the outcome. Let's pray.

Prayer

Father, I know you love me. I know you always want the best for me. I give you my fears and my desire to be in control. "Create in me a clean heart and renew a right spirit within me." Even though my brook has dried up, I will trust you to lead me to the place you have prepared for me. I submit and surrender to your loving sovereignty. Thank you for your care and provision. Thank you for blessing others as a result of my faith and obedience. In Jesus' name, I pray, Amen.
*Photo taken by Sharla Costelow, Denver, CO*
Copyright © 2008-2015 Shermaine Jones
Read more about the writer: Shermaine Jones
---
Reader Comments...
2011-09-23 01:29:24
"Great message. Thank you for directing me to this website. It took awhile to find your article. I will pass this article along to my husband. We really need to look at our circumstances differently. You're right on!"
- Irma
2009-09-03 19:00:05
"Hey Cousin, continue to allow the Lord to use you to be an encourager to His people. Thanks and Love ya."
- Linda
2009-08-21 12:02:38
"Great message, Shermaine. It was an on time word for me today, very uplifting. Thank you for your obedience to God."
- Sandra
---
Post Your Comment...
---