A Child's Heart for God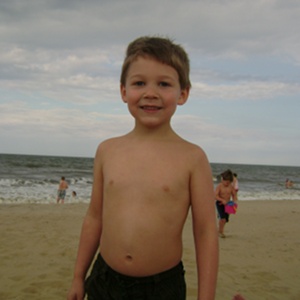 Just the other day, our five-year-old, Graham, was playing on the Chick-fil-A playground and interacting with some other children. When he returned home from his special time out with Daddy, he announced to me, "Mom, there was a kid there and he didn't know God!" I said, "Really, what did you say to him?" He said, "I said, 'Do you know God?' and he said, 'Who's God?' and I told him, 'He's our Father.'" Then Graham said to me, "He didn't know God made the creation, and he didn't know that Jesus was God's son, because he hasn't read the Bible."

Then Graham told me, "I said, 'Do you know Jesus?" and he said, 'Who's Jesus?' and so I told him that He's God's Son." Then Graham said to me, "I told him, because people need to know about God." Then Graham presumed, "His parents must not know about God either." Graham admitted to me that it was puzzling how this could be, "He knows about the animals in the woods--how can he not know about God?" He shrugged his shoulders in disbelief and then suddenly had a great thought.

Graham then asked me sincerely, and with urgent concern, "Mom can you call his mom and dad and tell them about God, because everybody that doesn't know about God, needs to know about God."

I told him that I didn't have their number to call them, but I would call heaven. He laughed at the thought of phones in heaven, and then I told him that our prayers are like phone calls that God hears and answers. He liked that idea. So, I told him we would ask God to bring someone to them that would tell them the way to God through His Son Jesus, and that they would accept and believe in Him. So, we offered a prayer toward heaven for the little boy and his family that was on Graham's little heart, that they would come to know God personally and His master plan of salvation.

It touched my heart to see such unabashed enthusiasm and eagerness to share the gospel with everyone everywhere. I think many adults could learn something from that. Let it be that the truth of God's merciful love would forever be in our hearts and on our lips—until all have heard.
Copyright © 2008-2015 Debbie Reynolds Harper
Read more about the writer: Debbie Reynolds Harper
---
Reader Comments...
2009-08-19 08:53:43
"Just recently, my 4 year old son came up to me out of the blue and said, "Mommy, I want to go up there". I asked him where "there" was, and he pointed toward the ceiling. He said, "I want to go back up THERE with Jesus!" After this, several other friends with children in the same age group mentioned that their kids were talking about being with Jesus, and having dreams about Jesus coming "tomorrow".

I believe that Jesus is calling the children and speaking to them in visions and dreams - people, get ready! Get your children ready!"


- Elisabeth
---
Post Your Comment...
---