< Back to Kitchen Keeper Recipes
Apple Bread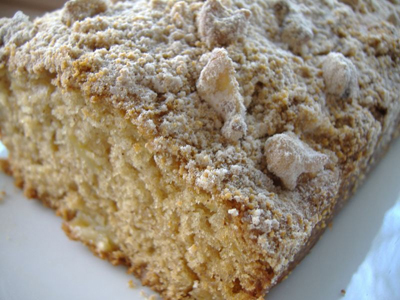 This is a wonderful recipe to try for a new and enlightening taste. You will be amazed at how good this taste! Enjoy!
Ingredients:
3 cups flour
1 t baking soda
1 t salt
1 t cinnamon
1/4 t baking powder
3 eggs, beaten
3 cups finely chopped apples (Granny Smith)
2 cups sugar
2/3 cup cooking oil
1 t vanilla
1/2 cup chopped nuts
Directions:
Preheat oven to 325 degrees.
Grease and flour two loaf pans.
Combine dry ingredients.
Combine wet ingredients.
Stir together until moistened.
Pour into prepared pans.
Bake for 45-55 minutes, and then cool on a rack.
Delicious Anytime!
Copyright © 2008-2015 Alyson Shedd
Read more about the writer: Alyson Shedd
---
Post Your Comment...
---