< Back to Kitchen Keeper Recipes
Beef Stroganoff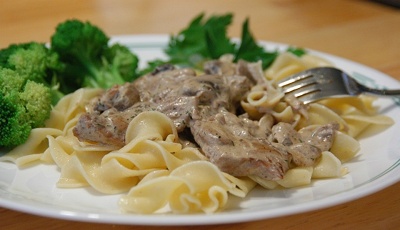 Ingredients:
2 lb ground beef
2 cups beef broth
1 onion, chopped
1 garlic clove, minced
3 T flour
1 (16 oz) carton sour cream
Egg noodles
Directions:
Brown ground beef.
Add onions, garlic, broth.
Add flour.
Bring to a boil, then simmer until thickened.
Add sour cream, stir.
Serve over cooked egg noodles.
(**Sautéed mushrooms optional.)
Copyright © 2008-2015 Alyson Shedd
Read more about the writer: Alyson Shedd
---
Post Your Comment...
---