Childlike Faith, Mature Hope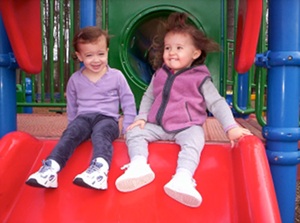 When my daughter was just a toddler, she had a favorite playmate named Morgan, whom she affectionately called "Meemeek." My daughter seemed rather dispassionate about other playmates at that age, but Morgan always elicited big smiles from her. I sensed a kindness and gentleness about Morgan that made her special, and she mysteriously knew how to draw out all the finer qualities in my daughter. At our local park they enjoyed wistful mornings of swings and slides, pretend store and peek-a-boo. One day, Morgan took my daughter's hand, and the two children toddled happily together down the path. We wished for our cameras.

Her mother and I never dreamed of the difficult future that lay ahead. In the fall of 2007, Morgan was diagnosed with a dangerous inoperable brain tumor. She and her family rallied to face the challenge with bravery and determination. But the dreamy days of a childhood summer were quickly replaced with the nightmarish reality of hospital visits, frantic research, experimental treatments, and moment by moment pleading for Morgan's life. This summer, just two weeks before her seventh birthday, Morgan took her last breath on this earth. For family, friends, and prayer partners far and wide, the news was unbearable. Why would God allow such a precious angel child to suffer in such a way?

In the weeks following, I grappled with God's promise of eternal life. Is it really true? How do I explain such events to my own daughter? I just felt overwhelmingly sad and hopeless after months of praying for Morgan's healing. But such emotions are based in the natural human fear of death, and in the mysterious threat of lonely banishment to some strange, unfamiliar place. Fortunately, I did not have to wrestle with such questions for very long, because my sadness evolved into a clearer understanding of a very vivid dream I had about Morgan over a year ago:

One night in April of 2008, I dreamed that I saw Morgan dressed in a glorious purple gown with golden braided cords at the shoulders that danced and swayed as she ran laughing through a field of flowers. Her hair was long and shone brightly in the sunshine. She was so happy – victorious, really. When I awoke, I felt that I had been given a special glimpse into what paradise must be like. I felt peaceful and awe-inspired! But, as I regained consciousness, and contemplated the possible import of the dream, I feared some foreboding sentence that God might not heal her. The happy, cheerful feelings that awoke me melted drearily into dread. Would God choose to heal Morgan? Would He hear our prayers?

How limited then was my understanding of God's gentle methods to comfort all who fear. So often in this earthly life, I avoid risk-taking and tend toward inaction in the hope that sickness or tragedy will not come my way. But this type of mediocre living is the mark of an immature Christian. Morgan, a determined and gentle spirit, taught me how to dream the faith dreams of a child. God's plan for her and for all of us is eternal life, eternal joy. Whether one is almost seven or 97, years are merely arbitrary Roman calendar increments of earthly time. The Lord's time extends far beyond us, in a dimension we cannot begin to comprehend. What an awesome gift God gave that night to reassure me of the reality of Morgan's eternal happiness in Him. She is free and sanctified, dancing happily in royal bliss. Whenever I miss Morgan, and those carefree days of childhood at the park, I remember the dream God gave to me, and I am comforted and deeply inspired.


2 Peter 3:8
"…With the Lord a day is like a thousand years, and a thousand years are like a day."


For more information about cancer research or donations, visit http://www.thecurestartsnow.org/
For awareness about Diffuse Intrinsic Pontine Glioma, visit http://www.icouldbeyourchild.org/
For Morgan's complete story, visit http://www.caringbridge.org/visit/ladybug
Copyright © 2008-2015 Julie Strohkorb
Read more about the writer: Julie Strohkorb
---
Reader Comments...
2012-01-02 18:16:49
"That is well known that cash makes us autonomous. But what to do when somebody does not have cash? The one way only is to get the credit loans and commercial loan. "
- Marilyn
2009-10-28 12:51:25
"What a beautiful article and dream you have shared with us about our precious little Angel Morgan. My daughter, Kristen was in preschool with Morgan and prays for her every night and wonders why she suffered so and prays she is dancing with all the angels and tugging on God's shirtsleeve in Ginny Dee Mathew & Jasons behalf.

Read the "The Brave Little Soul" by John Alessi to your daughter. Thank you."


- Genie
---
Post Your Comment...
---