< Back to Poems & Creative Writings
A Mother's Prayer for a Boy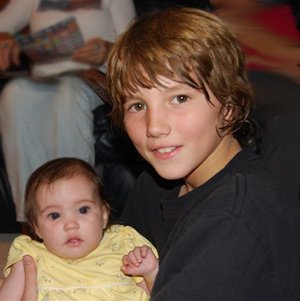 Dear Lord,

You say that we have not 'cause we ask not . . . so this morning I'm asking for something if it's in Your will to grant it to me. You see, I would love to have one more boy. "One more," you may ask. "Wasn't the first one enough?" And indeed, he is MORE than enough. In fact, You made my cup so full with him, that I've decided I would love to have just one more. I've thought about this long and hard, and I've decided that boys have such distinct and unique qualities. If I ever want to experience those again, well, Sir, I'll just have to have one more boy. (I've listed some of those exciting and unique qualities that I've experienced with my son, for You to review.)
1. Finding the kitchen trash can caught up about 10 feet high in a tree, only to find out that the 9-year-old boy was disappointed it didn't sail higher.

2. Having the bathroom towel bar broken, only to find out that the 4-year-old boy had just completed five chin-ups.

3. Discovering HUGE watermelon stains on the freshly cleaned carpet, only to find out that the 5-year-old boy had just wrestled the watermelon and WON!!!

4. Having the house smell like an orange grove, only to find out that the 2-year-old boy had eaten half a bottle of vitamin C tablets (This luckily didn't hurt the lad because the body naturally expels any vitamin C that it cannot absorb. Thank you.)

5. Discovering rocks, squirrel bones, bird bones and other treasures in the pants' pockets, only to find out that the 6-year-old boy had collected them as gifts for me.

6. Having the toilet tissue bar broken, only to find out that the 7-year-old boy wanted to know how much pressure it could take.

7. Discovering that the exercise bike now clang-clang-clangs when ridden, only to find out that the 12-year-old boy and his buddy were trying to see who could ride it faster and at what speed -- the top speed was 34 miles per hour, just in case You were wondering.

8. Finding the "deposit only" stamper missing, only to discover that the 3-year-old boy had ever so sweetly tattooed DEPOSIT ONLY from his face to his feet.
9. Finding water spots all over the ceiling in the bathroom, only to find out that the 8-year-old boy had created a mural for the family.

10. Discovering the entire bedroom carpet covered in grease stains, only to find out that the 11-year-old boy had decided to set up a skateboard repair shop in his room - using the floor as his work area, of course.

You see, Lord, I'm only 34 years old, and I've decided that the reason I stay so young is because I never know what to expect. My boy keeps me on my toes. And even though he's going on 13, the excitement and wonder are still very present within our home. He's a GIFT, and I'd love to have one more gift just like him - well, maybe not JUST like him . . . but pretty near close???

Well, that's my prayer, Lord. Of course, I trust your wisdom in this decision-making process. I just figured I'd let you know how I felt about the situation. Thank you for listening to me. Thank you for caring about my feelings. And most of all, thank you for being a good enough God, that if my request does not line up with Your plans, that you will not fill the order. I love that about you. You are always right, and I take great comfort in knowing that. I love you so much, and thank you for creating little boys.

Love,
Your little girl
Copyright © 2008-2015 Cindy Aitken
Read more about the writer: Cindy Aitken
---
Post Your Comment...
---