The Green Machine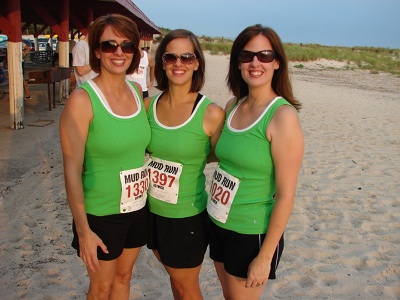 Once again, I set a goal and saw it accomplished! In August, I once again participated in the Mud Run; an 8K run that consists of a challenging course with mud, sand, and rough terrain, but this time I ran the race with my two sisters Amy and Jodie. A few months earlier, Amy had made the commitment to run the race with me. Jodie had injured her heel so she was not sure if she would be able to participate. She decided three days before the race that she did not want to miss the adventure.

After they came into town, we all went to pick up our race packets and Jodie registered for the run. Amy insisted that we have a name for our team and that we all have the same shirt for the race. So, we made a special run to Wal-Mart. When we happened upon some green shirts we liked, we couldn't help but remember a green plastic car that we all played on when we were kids. That green car was a delight to all the neighborhood children and gave us hours of fun and life-long memories. So, nothing else would do—we decided on our team name – The Green Machine!

After finally agreeing on a shirt we would all wear we made our purchases and went for coffee. That was the best part! We laughed and reminisced over "old times" as we enjoyed a cup of coffee. Even though we had all done races before, everyone was a little nervous about what to expect. Since I had done this particular race twice before I shared all I could remember of what challenges the race would present.

The night before the big event we went to dinner with our parents--an unusual event since we are usually always with our husbands and children when we get together for family meals. Amy had been fighting a sinus infection all day, so we loaded her up with some natural sinus medicine and headed home for a good night sleep. Everyone tried to pick something from the menu that would not be too heavy, but give us plenty of energy for the next day run.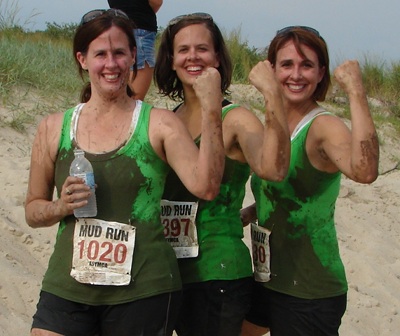 On the day of the event, Amy and I got up at 5:00 a.m. I wanted to clear my head, drink some water, and stretch out. Jodie on the other hand felt sleep was more important so she rested for another twenty minutes. My dad came over early that morning to go to the race with us. He is a true athlete at heart and I'm sure a part of him would have liked to have been in that race too.

When we arrived at the race, Jodie realized her socks were sliding under her foot. So, in a moment that was not uncharacteristic, Jodie went looking for some socks. Amy leaned over and said, "Wait and see, she'll come back with a pair of socks." Sure enough, a few minutes later Jodie came back wearing socks that came off the feet of one of the vendors—that she somehow managed to arrange. Nevertheless, she was comfortable, happy and now ready for the race.

As a reminder to us all before the event, we promised not to leave anyone behind. We were a team and we would all push ourselves, but ultimately stay together. As we lined up with the other female runners, we would see Dad on the sidelines just like when we used to play sports in high school.

As the horn sounded, our hearts were beating fast as we started out in the sand. The terrain was just as I remembered with a few extra sand dunes along the way. We would talk to each other now and then along the course to see how each of us was doing. We helped one another climb over the wall, go through waist-high water, and climb way too many sand dunes.

The hardest part of the race, the last two miles, is almost entirely sand. As we trudged through, we tried to encourage one another. Finally, we came to the last obstacle--a mud pit that you crawl through on your hands and knees and a sand dune that you climb over. As we all finished the obstacle we were quite muddy. Now we had only a a few feet to go to reach the finish line. Hot, sweaty, and muddy we grabbed hands and proudly ran through the sea of people to finish the race.

We grabbed a bottle of water and looked around at all the other tired and weary runners and felt proud that we had accomplished this task together. The next few days our bodies were sore, but we knew the pain was worth the experience. Next year, we look forward to doing the race again; apparently, we've started an annual green machine tradition.
There is nothing like setting a goal and seeing it accomplished—especially together with those you love and appreciate!
Copyright © 2008-2015 Christy Biswell
Read more about the writer: Christy Biswell
---
Reader Comments...
2009-10-03 08:23:39
"Proud of my girls.
Pa"
- Allen
---
Post Your Comment...
---