Gluten-Free Blondies Have More Fun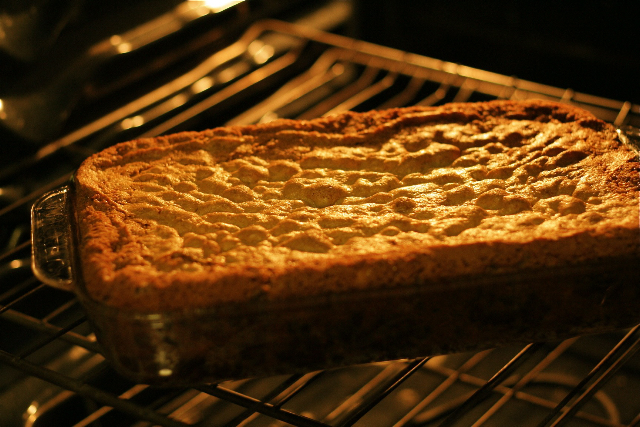 In my quest to make the perfect gluten-free cookie – one that doesn't crumble or spread like a pancake in the oven – I have made a few happy accidental discoveries. While making chocolate chip cookies from my favorite cookbook this month, I substituted part applesauce for the butter.

"Why not make them gluten free and low fat at the same time?" I thought, with Marsha Brady innocence.

The result was disastrous. A batch that started as six cookies on the pan merged into one enormous cookie mess in the oven.
"Must have been the applesauce," I murmured.

But occasionally, a culinary mistake leads to an even better result. Knowing I couldn't possibly get a cookie shape out of this particular gluten-free dough, I slopped it into a casserole dish, set the timer a little longer, and hoped for the best. I got the most delicious blondie-style brownies ever!

I plan to make these blondies again according to the recipe below, but for the record, let me share one important secret: If you want to make a gluten-free cookie that actually looks like a cookie and holds up during travel, use white rice flour mixed with corn starch and almond meal wherever the recipe calls for flour. Bean flours and potato starches yield unpredictable results, as do impromptu substitutions like applesauce. The best cookie-making dough will appear rather dry in the mixing bowl. More flour is better than less if you want a gluten-free dough that really passes the test.

Nevertheless, if your cookie dough turns out sloppy like mine, despite your best attempts, don't throw away those expensive ingredients! Instead, consider using them as a base for a gluten-free piecrust, pressed down into a dish with a little extra butter. No one has to know about your ditsy kitchen flops. Here's to your own happy accidents – breaking all gluten-free stereotypes.

Gluten-Free Blondies

Ingredients:


1 stick of unsalted butter, softened (not melted)
½ cup applesauce
1 cup sugar
1 ¼ cups packed brown sugar
2 teaspoons gluten-free vanilla extract
3 large eggs
1 ½ cups corn starch
1 ½ cups white rice flour
1 teaspoon baking soda
¼ teaspoon salt
½ teaspoon xanthum gum
3 cups chocolate chips
1 ½ cups coarsely chopped walnuts

Directions:


Preheat the oven to 350 degrees.
Grease a 12x17 brownie pan and set aside.
Cream together butter, applesauce, sugars and vanilla in a bowl and beat until fluffy.
Add the eggs to the mixture, one at a time, and beat well after each addition.
Blend together the flours, baking soda, salt and xanthum gum in a separate bowl.
Add the flour mixture to the butter mixture and stir until dry ingredients are blended.
Fold in chocolate chips and nuts until all ingredients are thoroughly mixed.
Pour into the brownie pan and bake around 30 minutes. The top will become golden brown and appear ready, but check with a knife for doneness before removing from the oven.
Let brownies completely cool before cutting. Consider hiding the entire batch for absolute security before serving.

Enjoy!!
Copyright © 2008-2015 Julie Strohkorb
Read more about the writer: Julie Strohkorb
---
Post Your Comment...
---