Funny Things Kids Say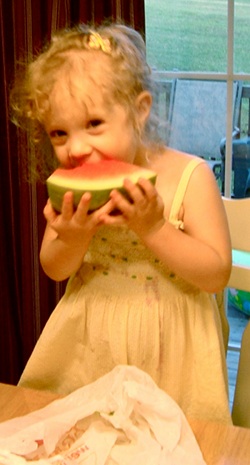 Our three-year-old comes up with the funniest things. The other day she kept asking for "mater-lemon." I had no idea what she was talking about. She said, "YOU know mom." She then repeated it, "MATER-LEMON," and pointed to the watermelon in the refrigerator. I said, "Oh!" and then slowly pronounced, ". . .WATERMELON? ? ?. . ." She smiled and shouted, "Yeah, yeah, that's it, WATER-LEMON!!
I was glad that I haven't forgotten how to speak "three-year-old-ese." It was, in fact, once my native language, but it's been a few years!!
Although summer has ended and fall is here, I think I may never look at a watermelon quite the same. And I'm certain that I will cherish every memory made by this cute language that will fade quickly.
Copyright © 2008-2015 Dorena DellaVecchio, Ph.D.
Read more about the writer: Dorena DellaVecchio, Ph.D.
---
Post Your Comment...
---