Poinsettias in November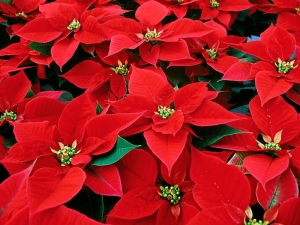 Traditions, especially at the holidays, build security in children. This tradition actually marks the beginning of our family's Christmas Season.
We have discovered one of our area's best-kept secrets that occurs in November.
Our local plant nursery, White's Nursery, is a world-class nursery, featuring not only hundreds of plants and professional horticulturalists; but one of this nursery's "crown jewels" happens each year in November. . . their annual Poinsettia Tour.
It's the kind of event, we can bring our entire family (grandparents love this!) and make a family tradition. We sit aboard a tram ride through White's greenhouses filled with a "sea" of thousands of poinsettias arrayed in differing colors. This event is FREE; and as you leave, you are blessed with a free poinsettia!
Traditions are special events that bond the family together, creating special memories.
Maybe you can find something like this in your area and add this special treat to your holiday list of fun (not to mention educational) things to do.
For those of you living near Hampton Roads, Virginia, this year's tour is Nov. 21-22 and White's Nursery is located in the Deep Creek section of Chesapeake, VA—3133 Old Mill Road, Chesapeake, VA 23323. 757-487-1300.
Happy Holidays and happy traditions!
Copyright © 2008-2015 Alyson Shedd
Read more about the writer: Alyson Shedd
---
Post Your Comment...
---