Prevention Tips for H1N1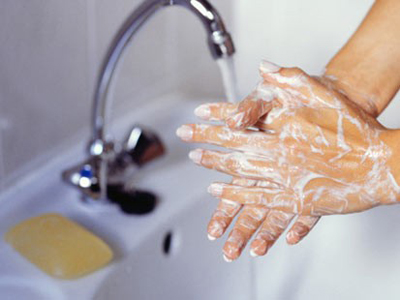 Since April of this year, the media have given much attention to certain widespread diseases, especially H1N1. Although it is prudent for us to consider ways we can remain healthy, we also need to be wise and discerning in evaluating information that bombards us from all sides.
As important as it is to remain physically healthy, it is also necessary to avoid fear that tends to be circulating at an alarming rate, even more so than the viruses. We must remember we can put our trust in God, the author and finisher of our faith, for both our physical and mental health.
I recently discovered these practical tips offered by a reputable doctor that included a home remedy my mother and grandmother have always used during cold season… gargling with hot salt water. Caution: This is not meant to replace any doctor's advice you may have, nor is it a medically endorsed article. These practical tips are from Dr. Vinay Goyal, MBBS, DRM, DNB (Internist and thyroid specialist), that may help protect you from becoming infected. This is what he shares:
The only portals of entry are the nostrils and mouth/throat. In a global epidemic of this nature, it's almost impossible not coming into contact with H1N1 in spite of all precautions. Contact with H1N1 is not so much of a problem as proliferation is.

While you are still healthy and not showing any symptoms of H1N1 infection, in order to prevent proliferation, aggravation of symptoms and development of secondary infections, some very simple steps, not fully highlighted in most official communications, can be practiced (instead of focusing on how to stock N95 or Tamiflu):

1. Frequent hand-washing (well highlighted in all official communications).

2. "Hands-off-the-face" approach. Resist all temptations to touch any part of face (unless you want to eat, or bathe).

3. Gargle twice a day with warm salt water (use Listerine if you don't trust salt). H1N1 takes 2-3 days after initial infection in the throat/nasal cavity to proliferate and show characteristic symptoms. Simple gargling prevents proliferation. In a way, gargling with salt water has the same effect on a healthy individual that Tamiflu has on an infected one. Don't under estimate this simple, inexpensive and powerful preventative method.

4. Similar to point 3 above, clean your nostrils at least once every day with warm salt water. *Not everybody may be good at using a Neti pot (available at Walgreens, Walmart, etc. - ask pharmacist if you can't find it), but *blowing the nose hard once a day and swabbing both nostrils with cotton swabs dipped in warm salt water is very effective in bringing down viral population.

5. Boost your natural immunity with foods that are rich in Vitamin C. *If you have to supplement with Vitamin C tablets, make sure that it also has to boost absorption.

6. Drink as much warm liquid (tea, coffee, etc) as you can. Drinking warm liquids has the same effect as gargling, but in the reverse direction. They wash off proliferating viruses from the throat into the stomach where they cannot survive, proliferate or do any harm.
In addition to what Dr. Goyal offers, I discovered some information from a friend on the neti pot that he mentions. I have included that below.
Note: The following recipe comes highly recommended from those who struggle with sinus allergies, and this may be an excellent help with protecting the body from COLD AND FLU viruses.
RECIPE:

Neti Pot
Add
½ tsp salt
½ tsp baking soda
I'm told that the baking soda is the magic in this formula, that comes doctor-recommended. One person has said he has not suffered from any colds for over three years since starting this regime on a daily basis and has reported no sinus problems.
Be sure to consult your doctor or health care provider about this information and other concerns that you may have. Your own physician is best qualified to give YOU advice because he/she knows your medical history and can alert you to any possible complications.
I hope you find some of these practical remedies helpful. Remember to ask God for wisdom which He promises to give freely to all those who ask. " If any of you ask for wisdom, let him ask of God, that giveth to all men liberally, and upbraideth not; and it shall be given him," James 1:5. (KJV)
Copyright © 2008-2015 Debbie Reynolds Harper
Read more about the writer: Debbie Reynolds Harper
---
Post Your Comment...
---