Setting a Place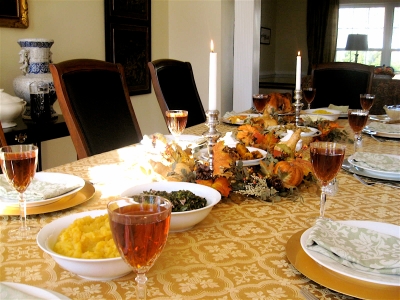 The holidays are arriving soon and so will the family! How will you serve them Thanksgiving dinner or Christmas brunch? Will the dining table accommodate everyone or will they be wherever they can find a seat?
Whichever suits your family's needs, there is a proper place setting for a casual meal or a full course meal, as you get ready for the turkey and stuffing, Yes, even though the day is full of football, reminiscing and napping-- it is perfectly fine and a treat to your guests to enjoy such attention to detail.
For a seated meal, you can observe from the picture how to properly arrange your place settings and flatware.
Serving a Crowd
When crowds gather, often the coffee table and the lap become the dining table. If this is your Thanksgiving dinner, don't fret, this too is perfectly acceptable and common for many other households during the holidays. Instead of piling all those wonderful dishes we look forward to all year on the stove and counters, why not create a buffet table? If the kitchen counter is the only space you have, take a few simple rules for arranging a buffet and apply them to that setting.
Whatever your scenario is, don't forget the all-important tablescape or centerpiece. Even the kitchen counter deserves attention to festive décor tucked here and there.
This holiday, do the best with what you have, be a gracious hostess, enjoy your family, and they will for sure have a Happy Thanksgiving!
Guidelines for Arranging a Buffet Table
From the direction guests will move around the table, begin with plates, side dishes, then main dishes, vegetables and salads.
Following all of this, set breads and relishes. Finally, napkins and cutlery finish the assembly.
Serve beverages in a secondary place to lessen the congestion in any one area.
This will help the traffic flow smoothly and the arrangement will be sensible and beautiful!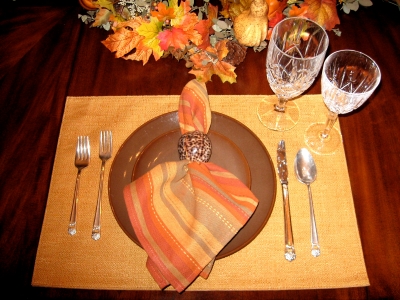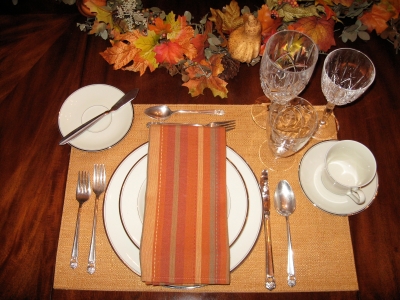 Copyright © 2008-2015 Kristy Beelendorf
Read more about the writer: Kristy Beelendorf
---
Post Your Comment...
---