< Back to Strength for Your Spirit
Gleaning From The Word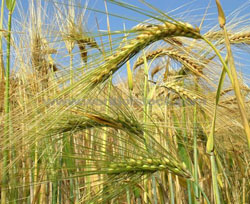 As women are we conscious of how others perceive us? We know that others judge our physical appearance, our personality and (within our circle of Christian friends) our level of spiritual maturity, but how often do we consider how God perceives us? We learn from
Jeremiah 1:5
that God knew us before He formed us in the womb. Further, Jesus emphasized that He values us more than many sparrows.
Luke 12:7
and that He even numbers the hairs on our head
Matthew 10:29
.
Sometimes we think that others are looking at us, even when they are not. We can be assured, though, that God is constantly paying attention to us. While other people can know us only superficially, God knows us even better than we know ourselves; He knows our thoughts, ways, desires and dreams, and only He knows if we are living to be ALL He desires for us to be.

One of the most important traits that God desires to see in us is faithfulness. Faithfulness encompasses every area of our lives. In order to live a life pleasing to God; we must "walk" our "talk." Faithfulness to God and others creates a reputation for trustworthiness.
I want God to see me as a faithful servant: faithful to serve and love Him; faithful in supporting my local church, faithful in prayer, giving, loving and respecting my husband, raising my children in godly ways; and bringing my Lord honor through this life He has given me.
Verse:

Proverbs 3:3,4:
"Let love and faithfulness never leave you, bind them around your neck, write them on the tablet of your heart. Then you will win favor and a good name in the sight of God and man.
"
Prayer for today:
Dear God, may You find me faithful and pleasing in Your sight. May I be a woman that brings You honor in my thoughts, decisions and speech. Help me in the choices I make, so that others will see me as a person of my word. Please use my failures to help me learn how You desire for me to live. I choose to call You my Lord. Let nothing I do or say bring shame to You or Your Kingdom. May I always know that my true value is in You, and not how others see me. In Jesus name I pray, Amen.
Copyright © 2008-2015 Sylvia Hensel
Read more about the writer: Sylvia Hensel
---
Post Your Comment...
---