Grandpop's Enduring Love for Jesus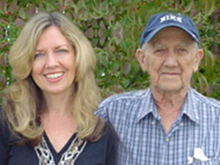 Last week my Grandpop went home to be with Jesus. Now let me put you at ease—although he will be dearly missed, this is a story of celebration. You see, Walter Lindberg, lived for 97 years and was blessed with two daughters and their husbands, eight grandchildren, 22 great grandchildren and one beautiful, completely adorable great, great granddaughter--you guessed it--my first grandchild!

As our family gathered to honor him, we searched through old documents and letters and discovered some tidbits that brought clarity to the man we loved. Wanting to remember, thank, and honor him, my thoughts evolved into:

"Things I learned from Grandpop."

1. The first thing I learned is that if you want to do something, do it!
Early in his life he was fascinated with flying, and he found a way to become a pilot. In spite of low income, he managed to purchase a small Cessna airplane. I loved it when he took me flying as a child. I'll never forget being his co-pilot in the front seat and how he allowed me to think that I was flying the plane. He loved flying so much that he continued to fly an Ultra-light into his early nineties! He also had a passion for motorcycles and he owned one until the day he died. During my last visit with him, he said he just wanted to sit on it for awhile! Adventure was a part of his life.

2. The second thing Grandpop taught me was how to bless my grandchildren.

He was a fun Grandpop and loved to spend time with me. He believed in being physically fit, so he encouraged all of us to ride bikes and to be active. Every time he visited our home, he made sure that he checked all the tires on our bikes and that they were working properly. He took us to the beach, and took us fishing. When we were old enough, he taught us to ride his motorcycle. Whenever a visit with Grandpop ended, he always blessed us with a dollar and occasionally a five dollar bill! Generosity flowed from his heart to bless his grandkids.

3. The third thing he taught me was to be a lifetime partner to my spouse.
Grandpop loved Grandmom and they were married for over 60 years until the day she went to heaven in 2005. He would often talk about Gladys and how much he missed her. They shared a lifetime of experiences and were an example to their family of faithful commitment, till death do us part.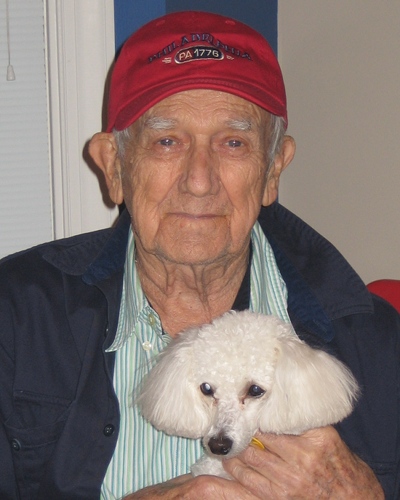 4. Additionally, Grandpop taught me to have a tender heart toward God.

I recall him telling me, often with tears in his eyes, to listen to God and to stay close to Jesus. His own childhood was difficult. His family came to the United States from Latvia when his was a preschooler. His father was separated from them in an effort to find work, and passed away shortly after. When he was a teen, his mother left for the mission field of India, leaving him and his sister with a family in Pennsylvania. That must have been difficult and yet I never heard him complain or question God. When I told him that I felt God calling me into the ministry, he cried and encouraged me to be obedient to the Lord.

5. This year Grandpop taught me that I will have some regrets in my life.

I was blessed to visit him in North Carolina just a month before his passing. He shared that he was having some frightening dreams and that the devil was tormenting him about hell. Although he knew to quote and read the Scripture, he was struggling.

The next week as I was praying for him, I felt the Holy Spirit prompt me to call him. We talked again about the dreams and he wept on the phone. I believe he was remembering some of the things in his life that he regretted, and the enemy was beating him up over them. I reminded him that when Jesus died and rose again, He defeated the enemy once and for all and that he has no power over us. When we call on Jesus as our Savior, we are forgiven of every sin of the past and Jesus chooses to forget them!
I prayed with my dear Grandpop on the phone and showed him the love of Jesus like he had shown me in the past. When I was finished I heard him worshiping, "Thank you Jesus, thank you Lord, I love you Jesus." I felt the presence of God come into that moment and Grandpop's fears about his future were replaced with the peace of God that transcends all understanding. Just a few weeks later, he was welcomed to his eternal home!

Things We All Can Learn

No matter what our age, Jesus' love is real and powerful. There is nothing we can do that will make God love us less and there is nothing we can do that will make God love us more.
He loves us because He loves us. When that sinks into our spirit, and we cry out to Jesus, He literally comes to us, releasing us from the past, filling the moment with His presence, which takes away all fear of the future.
I'm so grateful for Jesus, and one day I will see Him, along with Grandpop. I'm thankful Grandpop had an enduring faith in Jesus, that I now share. I'm thankful for God's enduring love for Grandpop and for me!
Copyright © 2008-2015 Dawn Sheridan Kollar
Read more about the writer: Dawn Sheridan Kollar
---
Reader Comments...
2009-12-07 11:08:29
"What a legacy that he left, and how cool that in turn you have shared what you have learned from him so that we can all learn from him. I wish I had been able to meet him."
- Tara
2009-12-02 13:29:20
"Grandpop's Enduring Love for Jesus was a beautiful essay. He was the father of my beloved wife, Doris. I knew the man and admired his unwavering love for the Lord and his family. I also know the author and she like Grandpop has been gifted in numerous ways to fulfill the call of the Harvest Master. Dawn is a special lady and her mother and I could not be more proud and grateful to the Lord for His hand on her life. Love, "
- Dad (J.C.)
---
Post Your Comment...
---