The Greatest Gift To Give This Year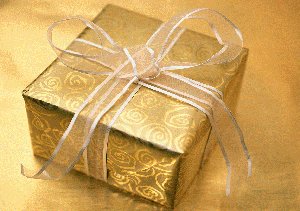 During the present economic crunch, I believe the greatest gift we can give our family and friends this holiday season is SIMPLICITY.

What do I mean by that exactly? Well, I'll tell you . . . when I was a single mom, I did not have a lot of money so I decided from the beginning that each Christmas, my son would only receive three gifts: something practical, something educational and something fun.
After awhile, it did not matter how much money I had or didn't have, he would only receive those three gifts. (Note: At his 10 year mark, one more category was added . . . spiritual.)

If you were to ask my son what he thought about this, he'd tell you that he looks forward to those few gifts because they are special.

A lot of times I purchase them, but he has also enjoyed the gifts I have made or special items of mine that I have passed down to him. My son would say that our home is full of peace at Christmas time because we keep it simple.

I thank God that He gave me the wisdom to do so from the very beginning. It started off that way because I had had very little money, but it is a tradition that has been continued because it works for our family.

Simplicity . . . a sweet treasure with one of its greatest returns being PEACE. And, I'm sure we could ALL use another cup of that, right? To a Glorious Holiday Season for you and your family, just remember KISS - Keep It Simple Sweetie!
Copyright © 2008-2015 Cindy Aitken
Read more about the writer: Cindy Aitken
---
Post Your Comment...
---