Just an Ordinary Day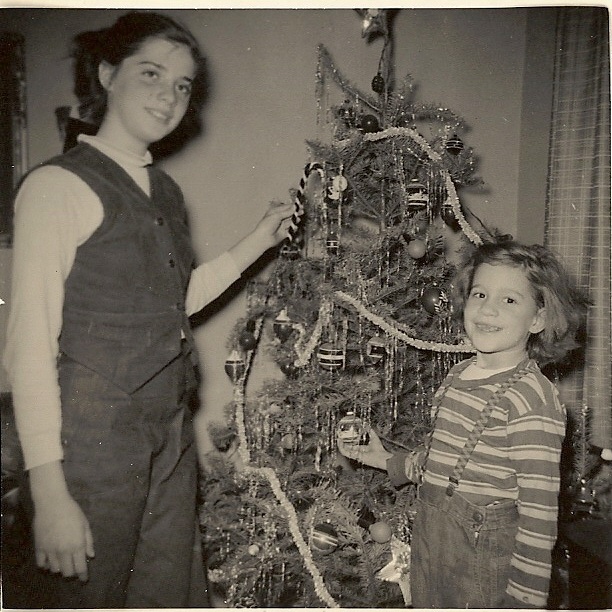 Early in my childhood, my parents taught me that it is in the simple things of life we often find real meaning and purpose for our lives.

Extraordinary Memories

Growing up in New York City afforded many opportunities to make Christmas memories. Having barely survived the two bountiful Thanksgiving dinners at my grandparents' homes, we were now ready to shift our focus towards Christmas. My sister and I knew that once Dad announced we were going to buy our Christmas tree, the Christmas celebration was not very far away.

We'd all climb into the car and start the long journey to a Christmas tree stand somewhere on Long Island. After what seemed like an eternity, we arrived at our destination and hurried out of the car to begin the arduous search for the perfect tree. My dad was a practical man and the mission would not be accomplished until he got the very best bargain.

Finally, we would be homebound with a tree tied to the top of the car. At home, Dad would untie the tree from the car roof, haul it into the backyard and place it in a bucket of water. Within the week, Dad would place the tree in a Christmas tree stand and bring it to its final resting spot-- our living room. He would string lights on the tree, then turn the remaining decorating chore over to my sister and me. Sometimes it would take six or more boxes of glittering tinsel and shiny balls to complete the task.

Since my sister and I slept in the living room on a sofa bed in my family's small apartment, I vividly remember lying in bed, staring at the sparkling tinsel. With each passing day, my excitement would intensify. By the time Christmas arrived, I could barely contain myself.

What began as a simple ordinary day in a moment of time would be filled with awesome anticipation for THE day when the contents of the gifts under the tree would no longer be a mystery.

Recently, I took out the family album and looked at some of those trees we had purchased, and, much to my surprise, they looked like something out of Charlie Brown's Christmas story The rather ordinary, even laughable, trees in the photos were the basis for extraordinary memories of perfect Christmas trees past.

Extraordinary Gift

So it was in the lives of those who were privileged to participate in welcoming the Christ Child. Unsuspecting, they were soon to witness the most significant happening in the history of mankind. These were ordinary men going through the same ordinary routines of their day.

As recorded in Luke 2: 8-20 (version), shepherds were among those recognized in the Scripture. Shepherding was considered a lowly profession. Luke does not record anything remarkable about the lives of these men. In the midst of an ordinary day, God chose to reveal the birth of the Christ Child to ordinary men through an angelic visitation. Luke describes the shepherds as being "terribly frightened."

How could these men overcome their fear to effectively hear the angel's message? Shepherds learned to listen attentively for sounds of predators hidden by the darkness of night. As self-taught listeners, their fears could not overshadow the message. In the midst of eminent danger, shepherds had to be reactive. Through acquired shepherding skills, they were able to focus on the message of the angel. At the conclusion of the birth announcement, Luke says, in verses 13 and 14, "And sud denly there appeared with the angel a multitude of the heavenly host praising God and saying, Glory to God in the highest, And on earth peace among men with whom He is pleased."

Their response is indicative of someone filled with awe and wonder. According to Luke's account, the shepherds quickly began their journey to find the Child. Unable to contain themselves after visiting the Child, they testified of "what they had heard and seen to others." On their journey home, they were described as "glorifying and praising God for all that they had heard and seen, just as had been told them."

Extraordinary Opportunity

Whether we see Christmas through the eyes of a child or that of a shepherd, there is a principle worth practicing. Simply having knowledge of something is not enough, but rather taking that knowledge and integrating it into our belief system is spiritual maturity. If the shepherds had simply heard the message and not responded, it would have been acquired information. However, by faith they made the journey. Standing in the presence of the Child, their faith was renewed and strengthened.

Christ's birth is more than a story; it is God's love reaching and longing for all to come into right relationship with Him. Ordinary people, living ordinary lives can experience the extraordinary. It is by faith that we take what God has made known to us and integrate that knowledge into our lives. Then we can become not only hearers of the Word but also doers.

Blessings to you for an extraordinary Christmas this year!
Copyright © 2008-2015 Ruth Van de Riet
Read more about the writer: Ruth Van de Riet
---
Post Your Comment...
---