< Back to Strength for Your Spirit
Trust is the Key to Surrender
"But He gives a greater grace. Therefore it says, 'God is opposed to the proud but gives grace to the humble.' Submit therefore to God. Resist the devil and he will flee from you." (James 4:6, 7 NASB)

"And do not go on presenting the members of your body to sin as instruments of unrighteousness; but present yourselves to God as those alive from the dead and our members as instruments of righteousness to God." (Romans 6:13 NASB)

Introduction

Surrender and submission are tied. True submission involves complete surrender. The song "Jesus, Take the Wheel" is a beautiful song that communicates surrender of one's own control of his or her life. Trust is the key component to being able to completely surrender. You must be able to trust that the one to whom you surrender has your best interests in mind and will always choose the best for you.

Another condition for "trust" is security. You must feel that you have protection and provision. The one to whom you surrender must be strong, reliable, resourceful, wise and smart. You can only truly surrender to one you trust.

Jesus' Example

Jesus demonstrated surrender and submission first in the Garden of Gethsemane, then at the arrest, trial and the cross. Without Gethsemane, there would be no cross. Without the cross, there would be no salvation. Our submission, or lack thereof, can impact the lives of others. In Gethsemane, Jesus encountered and conquered His flesh.

It is our flesh that will keep us from total surrender. Jesus was fully God and fully man. He did not have a sin nature, but He did have a body and it is the nature of the flesh to protect itself.

In the Biblical record, Jesus experienced two great times of temptation. The first was in the wilderness when He was overtly tempted by the devil. In that instance, the devil's goal was to obtain Jesus' worship by offering Him a shortcut to His exaltation. Jesus conquered the enemy with keen discernment and the word of God.

The second temptation was in Gethsemane. This time His foe was His own flesh. Remember, it is the nature of the flesh to protect itself. It always wants to live. That is why we have built-in "fight or flight" mechanisms like adrenaline in our bodies. In order for the flesh to succeed, it must be in partnership with our will.

The flesh may be motivated by chemical reactions or neural responses, but it cannot dominate without the agreement of the will of the person.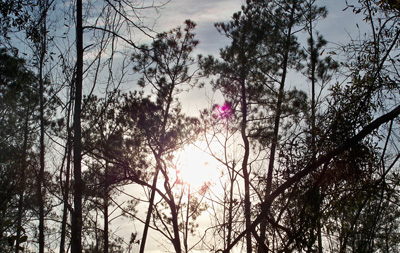 Take anger, for example. Scripture says in Ephesians 4:26 (NASB), "Be angry and sin not. Don't let the sun go down on your anger." Anger is a chemical and a neural response to an offense or threat. It is not a sin in itself, for it is given to us for our protection and preservation. It is what we choose to do in response to the anger that could be a sin. What we do is an act of our will.

Fear is the same thing. It is a response of the flesh for our protection. Its purpose is to keep us out of harm's way whether real or imagined. How we respond is an act of our will that will determine whether our consequential action or reaction is wrong or right.

In Gethsemane, Jesus was challenged by His flesh's desire to live for He knew what He was about to suffer for our sakes. The struggle was made evident when He asked the Father to "let this cup pass from Me." That was the flesh desiring to live. Desiring to live is not a sin, but, in this case, it was in opposition to the plan/will of God.

Victory or defeat would be determined by where He aligned His will: whether it would be with His flesh or with His God-given assignment and purpose. The choice and consequential victory was made evident by His next statement which was, "nevertheless, not my will but Thy will." He aligned His will with the will of the Father and took dominion over His own flesh.

This was an act of surrender to the will of God. Hebrews 12:2 (NASB) says, "that for the joy that was set before Him, He endured the cross despising the shame . . ." Whereas His flesh feared loss, in the spirit, Jesus saw promotion and gain. So, He surrendered to the One He could trust to take Him through the challenge to achieve the reward. The reward was His exaltation and the joy of our salvation.

Application

We all have wilderness times and Gethsemane times. In our wilderness times, we are confronted and tempted by the enemy, the devil, to achieve prosperity by taking his short cuts. He promises the world but delivers death (John 10:10a). It is his nature to lie and kill.

It is God's nature, however, to bless and do good. With God, there is life, truth, provision, prosperity and goodness. So the one with whom we align our wills should be the one we can trust.

As with Jesus, when we are tempted, in the wilderness (a place of want – trial or challenges), we must combat the enemy with the Word of God. The Word of God is our offensive weapon and the source of our faith and confidence in God (Eph. 6:13-18) (NASB).

In our Gethsemane times, we are confronted with our own flesh and tempted to fulfill its lusts by taking matters in our own hands. Galatians 5:17 states that our flesh is an enemy of God. It wars against the Spirit of God within us.

In those times, we must align our wills with the Word and the nature of God and choose the way that honors Him. This is called "obedience." Romans 6:16 says that the one to whom you yield (surrender) yourself is the one to whom you are a slave. You become a slave to unrighteousness or to righteousness. It is a matter of the choice of the will. The one to whom you surrender is the one you will serve. We all serve someone either by default or by decree.

Ultimately, the one to whom you will surrender is the one you trust, whether it is yourself, the devil, others, or God. The question is who best deserves your trust? So to whom should you surrender? Let's pray.

Prayer

Dear Lord God, I know You are good, loving, kind and powerful. I know You love me and desire the best for me. You alone deserve my surrender. So, I surrender to You my life, my hopes, my body, my will and my dreams. Have Your way in my life. Not my will but Your will, oh, God. Be glorified. I trust You. In Jesus' name, Amen.
*Photo credit: Javin's Photography*
Copyright © 2008-2015 Shermaine Jones
Read more about the writer: Shermaine Jones
---
Post Your Comment...
---