Not Just Goal-Setting . . . but Goal-FITTING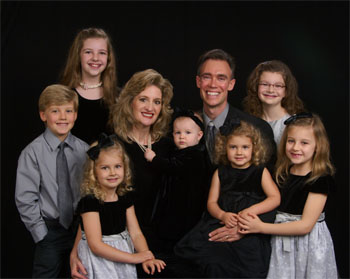 January feels fresh and clean to me each year, mentally and emotionally, as I think forward to the plans and goals we have as a family and as individuals for the new year. Since Jesus has not returned, we will continue to "work while it is day," seizing each day as a gift, glorifying Him by seeking Him daily and surrendering our hopes, dreams, and even our agendas to His perfect care.
Each year as we travel across the states to visit family, Brad and I review what we call Family Goals as well as Individual Goals, not only for our seven children, but for us as well.
We discovered the importance of these goals years ago as our family size expanded, along with all of the things we wanted to accomplish in the new year. Before long, it became obvious that all these activities, as fun as they were, could have us running in fourth gear every day, doing "good things" but not always the "best things."
Brad and I prayed, and the Lord specifically showed us what our family goals were to look like to bring the most honor to the Lord Jesus. We examined the basic nature and character of our unique family and set our goals accordingly. We are a musical, artistic family, a pastoral family, with seven social butterflies!
The Lord graciously gave us peace that we did NOT have to look like any other family that we might see at church or a Christian convention. As much as we may deeply admire other families and their unique attributes, we soon realized that comparing ourselves to them was nothing short of foolishness.
For example, I married a pastor who is a professional violinist, not a farmer! (Of course, we benefit from our agricultural friends by supporting them with the purchase of their products!)
At times, I've set different goals for myself, including growing a garden, sewing, and knitting; and I've cried miserably through each process because I simply wasn't gifted in these areas. I was trying to be the perfect mom and pastor's wife, to be admired by all as the exemplary Proverbs 31 woman. I'll never forget the day when I came crashing down emotionally because I was trying to cram my circle peg into a square hole . . . and it was painful!
The Lord showed me that He liked the way He made me, and His purpose was for me to bring Him glory through my artistic endeavors, not through my ability (or lack thereof) to sew beautiful matching dresses for all of my daughters! (Although I did this once and have the picture to prove it . . . never again!! J) I'm now happy to pay my dear seamstress friend to sew lovely, modest clothing for my girls, while we teach her daughter to play the violin!
So . . . this year when setting your family goals, align them first with the plumb line of God's Word, then set goals and activities that look like your family and bring pleasure to both the Lord AND to you! I love the line in the movie Chariots of Fire when Eric Liddell told his sister, "When I run, I feel God's pleasure."
Do you feel God's pleasure in what you do, both individually and as a family? If not, step back this New Year and realign all of your goals and activities to fit your unique family personality. Then . . . stick to these decisions!
All kinds of opportunities will present themselves to you in 2010, but if you have a chart on your refrigerator listing your family goals, you can then easily say, "Yes" or "No," depending on where that activity fits with your goals! Stay focused and prayerful. You will still be busy . . . but busy doing the best things for you and your family.
Have a happy New Year filled with goals that glorify Jesus . . . AND that give you joy!
Copyright © 2008-2015 Alyson Shedd
Read more about the writer: Alyson Shedd
---
Reader Comments...
2010-01-03 04:35:31
"What a fabulous article! I love the quote from Chariots of Fire. I love the idea of helping your children make goals too. Thank you! :)"
- Cindy
---
Post Your Comment...
---