A Bible Birthday Party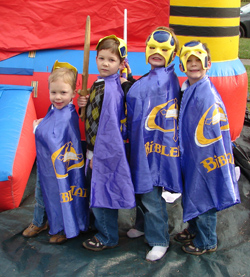 For my son's sixth birthday party I took him to the local party supply store. I thought he would enjoy picking out some "cool" invitations and napkins. Instead, he seemed very unimpressed.
So, I said, "How about "CARS" or "Spiderman." His response, "Do any of these party invitations talk about God?" My mouth fell open! His latest fascination had been with a Christian action hero named "Bibleman." However, invitations for this character were nowhere to be found in a mainstream party store.
So, the next day I tried looking at a couple of Christian bookstores for his requested invitations. Again, I found no "Bibleman" party supplies. I only found one kid's invitation that had a scripture inside, but didn't look very cool so I put it back and continued my search.
Later that evening, I was tired of looking and ready to go home. I called my son from a party supply store and said, "Parker, since they don't have "Bibleman" how would you like "Hot Wheels?" I figured if I said it more enthusiastic perhaps he'd get on board. Instead, there was only silence on the other end.
Finally, he said, "Mom how about those invitations that you found with a Bible verse on them." Since he had not seen these invitations he didn't know what they looked like, but he was excited that they had a Bible verse
At that point, I figured if he wanted to represent God that badly at his birthday party who am I to say no. With fifteen minutes to spare, I drove back across town to the Christian bookstore that sold the invitations.
My son's loyalties to the things of God were more important than the pretty invitations or the "cool" ones that I thought he would enjoy. His genuine disappointment for not having God represented on his birthday invitation amazed me. He wasn't being difficult or unrealistic just being honest. I am proud of him and I hope next year I am a better listener to the desires of my son's heart.
At his party, several of his friends from church wore their "Bibleman" costumes. They were all very cute, but even more touching was knowing who these children were emulating in a world where so many other super heroes take center stage.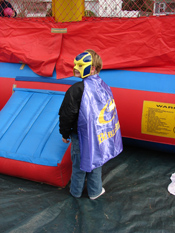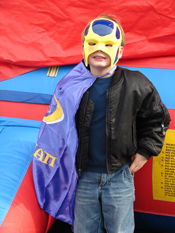 Copyright © 2008-2015 Christy Biswell
Read more about the writer: Christy Biswell
---
Reader Comments...
2012-03-08 14:51:43
"My son is turning 5 and he wants a Bibleman birthday party! That is how I found you from a google search. So glad to read the responses for great ideas on how to actually pull this off. I was just about to give up and go another direction just like you expressed. Thank you God for raising up a new generation of mighty young men. Thanks, Susanna"
- Susanna
2011-10-05 04:31:59
"It is 5:09 am and I have my son next to me, thinking what can I do for his Birthday? He loves Bible man and quotes Bible vrs. from the vedeo he watches. I thought it whould be so nice to do a Bible man theme party, thinking I was the only parent alone with this.I thank God for this page because I know I'm not the only parent to see that Yes it is hard to fined bible man items for our christian children's birthday parties. I wish there was a way Bible man could have this for the kids with out it being so expensive. Any ways thanks for the ideas on how to improvise, I trully appreciate it God Bless."
- Luz
2011-07-30 17:10:29
"For invitations I printed off a neat pic of Bibleman I found online, on some nice shiny white cardstock. Then I typed details inside on yellow paper. Then I found some yellow/purple decor for table, and some light-up swords (puple and yellow) at Dollar Tree for $1 ea!! I bought and cut a purple plastic table cloth into thirds, and we will use these for capes tied around their neck at the party. Does anyone have some creative ideas for food or games at a Bibleman party? "
- Susan
2011-05-17 20:17:12
"I found your blog while googling "Bibleman invitations!" It's great to know there are other moms out there with the same birthday dilema! My son Luke (6 yo) is having his Bibleman party this weekend. I found an evite that is reminiscent of comic books and is purple. Guess we'll go with that. We're going to let the boys have a sword fighting tournament on Wii and then make masks w/ paper plates and scripture on the inside. I agree with you- if our boys want to celebrate their birthdays with the Sword of the Spirit instead of the batmobile, why would I try to change that?"
- Claire
2010-10-31 01:01:20
"Robin,

The Bibleman birthday party items I could not find online or in my local Christian book stores. So, I decided to color coordinate with bright yellow tablecloths and purple plates, cups, etc. I went to Party City and they had a great selection of colors.

For the cake, I went with the purple and yellow icing and then used a Bibleman action figure on the cake to help tie in with the theme.

We encouraged friends from our church to dress in their Bibleman costume and bring their swords if they had one. The costumes added excitement and a nice touch of color.

There are some great websites with Christian games for kids at birthday parties...you might check some of those out for some more creative ideas.

God bless you!"


- Christy Biswell
2010-10-20 17:01:54
"I am glad I came across your website. My son who will be 7 in December just came to me and asked me if he could have a Bibleman Birthday party. We have a few videos of Bibleman that a good friend from Church gave us since her son is now 17!!! I have NO idea what to do for a Bibleman Birthday party. Can you share some insight on what you did at your son's party? I would really appreciate it!!! Thank you,"
- Robin
---
Post Your Comment...
---