Fit for the Kingdom
With the arrival of a new year comes the inevitable thoughts of a new me. For many of us, we immediately think of the physical changes that we desire. Less pounds, more beauty. When I was younger I rarely needed to focus on losing weight. I was one of those blessed with a good metabolism and I could eat the sweets and still be relatively thin. But something happened about ten years ago when I turned forty. I recall my Mom warning me that with the addition of each year comes the addition of an extra five pounds. I honestly thought to myself that I would be different, that I wouldn't have that problem…ha! I am a living affirmation of her wisdom.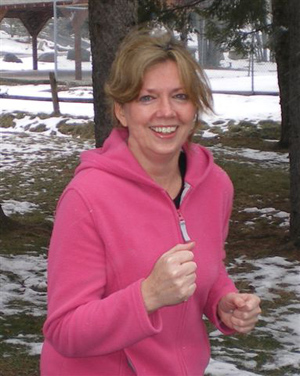 So here I am at the start of 2010, emphatically declaring that I will change my habits this year. I WILL work out regularly, I WILL eat healthy and I WILL lose weight! Setting goals for ourselves is very important, however, if we are to attain them we would be wise to examine our motives as well. Do I want to look better because I care what people think of me? Do I have a need for others to think highly of me and my ability to take care of myself? Do I want men or women to notice me? Do I think more highly of myself when I am thinner? These are all questions that I have struggled with at some point in my life and they all relate to how I see myself.
The hard truth is that the core of these motives is my pride, and the Bible identifies pride as sin. If you see this in yourself, be encouraged that you are not alone and that identifying the sin is the first step toward a healthy change. Thankfully we have a loving Father who invites us to look honestly at ourselves and to confess our sin to Him. It is humbling to recognize the ugliness of pride within, especially since we were hoping to look good to others! It's a double whammy. But it is the truth and we need to know the truth so that the Lord can set us free. He is amazingly faithful to forgive us. Each time that He reveals my pride to me, He lovingly invites me to confess it to Him, and He cleanses me and gives me a new beginning.
I am so grateful for His patience with me and I am finding that as I receive His grace daily, it helps me to give grace to others as well. How can I think of judging someone for what they have done when I am so dependent on His forgiveness towards me? Where the Spirit of the Lord is, there is freedom! That breaks down to this: if the Spirit of the Lord is in you, then He will give you the power to not give in to the sin of pride and judging others. He is not just concerned with the outward sins, but the inward, hidden and quiet ones. Ask Him to show them to you, and I promise you, He will! He loves you too much to allow you to remain the way you are.
So am I off the hook for losing weight this year? No, but my new motive for healthier living is that I would be fit for the purpose of God's Kingdom. It can no longer be about me wanting to look good for my sake. Instead, I must choose to take care of my body, where His Spirit lives, and to live in obedience to His Word, for His sake. To give honor to Him, the King, the only one worthy of honor! We have been uniquely gifted to serve Him while living on earth. When we choose to eat healthy and to exercise, we are stronger physically and mentally. Then we are better equipped to be Kingdom-focused—having a right relationship with God which makes it possible to have right relationships with people, and to point them in His direction. God has amazing ministry planned for us this year, so let's get ready and be fit for His Kingdom!
Copyright © 2008-2015 Dawn Sheridan Kollar
Read more about the writer: Dawn Sheridan Kollar
---
Post Your Comment...
---