< Back to Kitchen Keeper Recipes
Hickory Smoked Tuna Quesadillas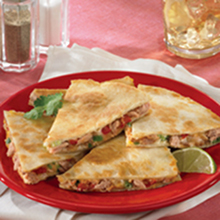 If you like tuna, you may really like the new Hickory Smoke flavor by StarKist. We tried the kind that comes in a packet instead of the can and we liked it. It is lightly marinated premium chunk light tuna in hickory smoke flavors.
It is perfect for tuna melts and appetizers. It's a good source of protein and low in fat. It also has a long shelf life and is good to have on hand for something quick. Here's a great recipe to try.
Ingredients:
1 (4.5 oz) pouch tuna (StarKist Tuna Creations hickory Smoked)
½ cup shredded Colby-Jack cheese blend
2 green onions, thinly sliced
1-1/2 oz. Cream cheese, softened
1/8 cup roasted red pepper strips
2, 10 inch flour tortillas
Directions:
Mix tuna, cream cheese, shredded cheese, pepper strips and onions until blended.
Spread tuna mixture on one tortilla shell to the edges.
Top with the other tortilla shell.
Spray a large skillet with vegetable spray and heat.
Place filled tortilla in the skillet and heat until brown; approximately 2-3 minutes per side.
Cut into 8 wedges and serve.
Prep Time: 5 minutes, Cook time: 4-6 minutes.
Serves 2 or 8 appetizers.
Copyright © 2008-2015 Debbie Reynolds Harper
Read more about the writer: Debbie Reynolds Harper
---
Post Your Comment...
---