< Back to Strength for Your Spirit
The Perfect Rose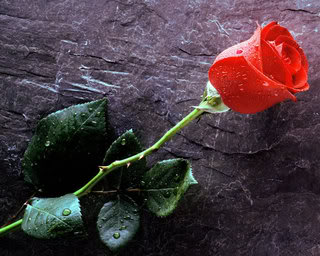 Traditionally, roses have been selected to convey ones deepest emotions of love, the red rose especially being closely identified with romantic love.

On many special occasions, my husband has surprised me with a dozen of these beautiful flowers, particularly on Valentine's Day, the birth of each of our children, and sometimes just for no particular reason at all, just because he loves me.

Initially these buds are closed, but with each passing day, the buds begin to open--unveiling red velvet petals in their splendor filling the air with a lovely fragrance. It's no wonder roses are among the most favored flowers.

In Song of Solomon 2:1, it says "I am the rose of Sharon…." (NKJV). The rose of Sharon is a name given to highly valued flowers throughout the world.

As a child growing up in church, I often heard Christ described as the Rose of Sharon. I did not understand the connection until much later in life. The term took on new meaning as I heard a song by Dottie Rambo and Danny McGuire entitled "The Perfect Rose."

The song begins by describing a single scarlet red rose in full bloom sitting in a corner on a table covered with ivory lace filling the room with its lovely fragrance. Without a reason, hands reached out and crushed the rose causing an even sweeter fragrance to emerge. The beautiful rose seemingly lay in ruins. This was not the end, but rather the beginning. The song ends with the words "tasting death, the Rose of Sharon rose to bloom forevermore."

In this song, the rose is a reminder of the greatest gift ever given to mankind. Jesus tasted death and arose to live forevermore so that we too might live forever with Him.

Symbolically, Jesus is the perfect rose. When we seek His presence, the fragrance of His love permeates the very air we breathe. In Luke 7:36-39, a weeping woman brought an alabaster vial of perfume and poured the content on the feet of Jesus. As the fragrance filled the room, this woman was reminded that she no longer was bound by the chains of her past, but rather she was set free and made alive in Christ.

Whatever you are facing today, allow the fragrance of His love to permeate your very being. He is faithful and able to meet all your needs.

Prayer of Comfort:
"Father, thank you for sending Your son, Jesus, the perfect Rose, who was crushed for me and whose presence permeates my life and the hearts of those who receive Him. Thank you that the grave did not hold Him, and that He rose again on the third day to triumph over death, hell and the grave. Death has no sting and the grave has no victory—Jesus holds the key! I praise you that all who know Him also know You and will live and reign with You forever and so shall we ever be with the Lord. Father, touch the petals of Your one and only tender Rose to the hurt in my heart and bring comfort where there is sorrow, bring joy where there is grief, bring healing where there is pain. With your hope, I can face tomorrow. The beauty of Your fragrance will be there. Thank You for Your abiding love, yesterday, today and forever."

Credits:

1984 Impact Records, Distributed by the Benson Company, Inc., Nashville, TN 37228/Lawson-Falle Ltd, Ontario, Canada N1R6C9.
New American Standard Bible
Copyright © 2008-2015 Ruth Van de Riet
Read more about the writer: Ruth Van de Riet
---
Post Your Comment...
---