My Big Screen Moment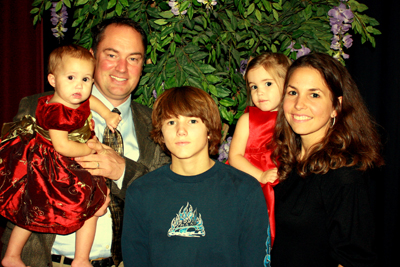 When I was younger, I used to imagine being on the Big Screen. I'd be a glamorous movie star with a gorgeous, flowing dress and a handsome leading man in a timeless and romantic classic. Well, even though I'm not a glamorous movie star, I do have a wonderful leading man to live life with and raise a family with as our children do the most classic and timeless things—like what happened yesterday.
This past Sunday, my husband and I dressed up our best and all the kiddos too, as we excitedly prepared ourselves to have our two young girls dedicated at church. We couldn't have been more thrilled! We had all the family come into town and even some of our closest friends. It was a day I was sure to remember for the rest of my life. And oh, I will-- but for more than just the spiritual symbolism - MUCH more.
You see, after the dedication, we had a little luncheon at our home. My husband and I took time to cook our favorite dishes to share on such a memorable occasion as this.
As we were fellowshipping with our family and friends, I happened to catch part of a humorous story but wasn't sure who the story was about, so I asked the infamous question, "Who are you guys talking about?" "Well your daughter, of course," my friend responded. "It was so funny watching her look between the flaps of your skirt on the big screen."
At that moment, I didn't know if I was going to erupt like a volcano or merely sink into the carpet like a puddle of mush, but I realized very quickly, that I didn't have the luxury of doing either-- as I was the hostess of this event.
Mustering my best composure, I inquired, "What are you talking about?" Before I reenact this AWFUL story, I must tell you that the skirt I decided to wear that morning was a pretty flowing skirt (past the knees about shin-length) with beige and black little designs all over. It's one of my favorite skirts because it has these pretty flowing flaps that interconnect (but can be pulled apart by little two-year-olds, I suppose).
My friend explained that as my daughter was running around and around me on stage that suddenly she stopped, and started playing peek-a-boo in between the flaps of my skirt - pulling them open and shut - open and shut. I didn't notice any of this because my 10-month-old daughter was squirming so fiercely in my arms that my focus was not on the child that was contently running around my legs. However, at some point, the circular motion must have lost its luster because my two-year old stopped long enough to play peek-a-boo with the congregation through the flaps of my skirt!
My BIG SCREEN debut! That was it! I'd waited all my life! Thank goodness for slips! All those times my mother made me wear one of those itchy, uncomfortable slips as a child, I am now FOREVER grateful. It's been engrained in me to NEVER leave home without it. (Isn't that a credit card commercial???)
That day was certainly like a commercial--you know the one . . . Beautiful flowing skirt - $15.99, pretty red bow for daughter's hair - $4.59, Cindy' BIG SCREEN debut - PRICELESS!!!
Copyright © 2008-2015 Cindy Aitken
Read more about the writer: Cindy Aitken
---
Reader Comments...
2010-03-11 16:41:27
"You are priceless! Terrific way of telling that story :)"
- Stacy
---
Post Your Comment...
---