Goodnight Song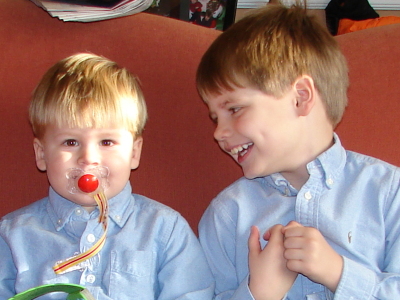 As part of our children's bedtime ritual we read a few books, say our prayers, and then take each child to bed – beginning with my youngest son, Cooper. After my husband gives him a kiss goodnight, I tuck Cooper into bed. Then he says, "Mama sing?" And, of course I can't refuse his cute little request no matter how exhausted and tired I really am.
I gave up on the lullabies a long time ago. Instead, I go straight for the praise songs. I think in all honesty they are what I need to hear at the end of the day to refresh my spirit and at the same time the songs help to calm my son.
One night I asked him, "Which song do you want to hear?" And, he said, "You pick." So, I did. With my eyes closed I began to sing one of my favorite songs, "I love you Lord and I lift my voice to worship you…" As I took a breath to sing the next line, I heard a small sweet voice proudly begin to sing the next line, "Oh my sow - wejoice…take joy my King, in what you hear, let it be a sweet, sweet sound in your ear."
As I listened to him sing, my heart was filled with joy. It was refreshing to know that after all those nights I had tucked him into bed and sang song after song he was indeed listening and learning how to praise our Lord. I think God must have been smiling too as He listened to the sweet and sincere serenade of a two year old.
Copyright © 2008-2015 Christy Biswell
Read more about the writer: Christy Biswell
---
Reader Comments...
2010-04-15 08:57:16
"How very precious to know our youngsters respond to our love for God as they watch us. A praise and a prayer, before bed, in the car, while preparing a meal... whatever we are doing with the children, they are watching and learning where our strength comes from. I know Cooper's Granny, she is precious. I know her family through her, and they are precious because they watched her. Keep going Chrisy, your grandchildren will watch and learn to love and trust God throught the love you are teaching your children. God bless! "
- Karen
2010-03-02 22:24:44
"What can I say--the cutest, sweetest little fellow (that is coming from a Granny). Raise up a child in the way he should go and when he is old he will not depart. Mothers do not grow weary in your loving and teaching your little ones. One day you will hear them singing and praising the Lord just like thier Mommies did. "
- Janice
2010-03-02 14:59:33
"I loved this article. We sing a song every night before bed to our 5 month old son. Sometimes it's lullabies or kid songs (Jesus Loves Me, This Little Light of Mine, etc) but usually it's "grown up" worship songs (Amazing Grace almost always calms him right down...or maybe it just calms me down and he reacts to that). It's so nice to hear that the nightly worship time has made such an impact on your son...looking forward to another sweet little voice joining in to your son's serenade to God a year or two from now. "
- Devin
---
Post Your Comment...
---