< Back to Kitchen Keeper Recipes
Cranberry-Pineapple Minis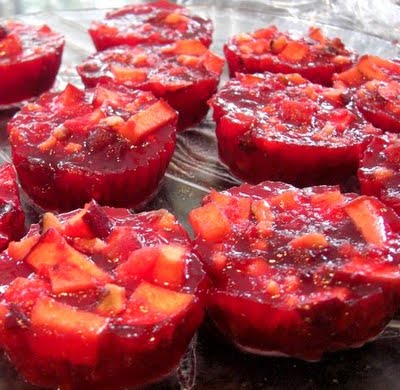 These delicious gelatins will not only cool your pallet but will beautify your table!
Ingredients:
1 20 oz can of crushed pineapple in juice
2 3–oz pkgs of raspberry flavored gelatin
1 16 oz can of whole cranberry sauce
2/3 cup chopped walnuts
1 apple chopped
Directions:
Drain pineapple, reserving juice. Add enough water to juice to make 2 ½ cups.
Pour into saucepan and bring to a boil.
Pour over gelatin mixes in a large bowl and stir for 2 minutes until dissolved.
Stir in pineapple, cranberry sauce, walnuts and apple.
Spoon mixture into 24 paper-lined muffin cups.
Refrigerate for 2 ½ hours or until firm.
Remove from liners and serve on platter or on small serving plates or bowls.
Copyright © 2008-2015 Dawn Sheridan Kollar
Read more about the writer: Dawn Sheridan Kollar
---
Post Your Comment...
---