Seeing Poverty Through the Taxi Window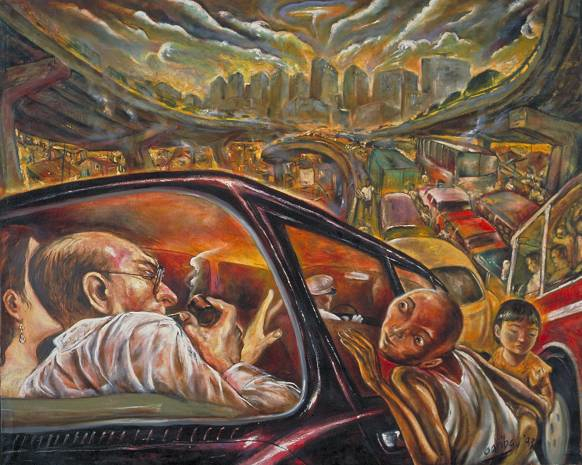 During a whirlwind trip to Singapore in December, I toured the Singapore Art Museum with my children. We wanted to soak up the glamour and culture of that city. "Glitzy Christmas" was the city's holiday theme, with silver and gold tinsel twinkling above the streets. One art exhibit at the museum, however, dimmed the cheer of the holidays. A work from the SAM permanent collection by Emmanuel Garibay, An Encounter on the Road to Fantasy, arrested us with an eerie feeling.
The artist depicted a wealthy couple cloistered in their car, while two begging children looked longingly at them on the other side of the glass in a busy roadway. I asked my six year old, "Who is rich and who is poor in this painting?" She didn't seem to know. How do you explain the value of money or the hardships of poverty to a child? So I attempted to spell out that the woman's jewelry and the car's protection from the busy, dirty street were signs of wealth. The children outside the car window, exposed to the dangerous, swirling roadway, might have been asking for help or money. My own child still didn't understand fully, never having been on that side of the glass.
Two days after discussing the painting, we arrived in a much more poverty-stricken Asian city – an even bigger metropolis with bustling cars, buses, motorcycles and pedestrians all jockeying for road space. We found ourselves in a taxi idling in heavy traffic heading to a shopping mall when, out of nowhere, a little girl my daughter's age appeared at our window. She held out her hand with a solemn expression. I turned to my daughter and said, "I feel like I am in that painting." The reality of poverty began to connect in my child's mind at that moment.
In its State of the World's Children 2007 Executive Summary, UNICEF reported that 32 percent of South Asia's population lives on less than $1 a day, compared with 0 percent living under those conditions in industrialized nations. Yet, in its 2009 Year-in-Review Perspective, the California-based Barna Research Group concluded that "only 4 percent believe that poverty is an issue that is primarily the responsibility of the Church." No doubt many Americans feel government should play a larger role. But what role do I play as an individual, and as a part of the larger Christian community?
In the gospel of Matthew, Jesus said, "It is easier for a camel to go through the eye of a needle than for a rich man to enter the kingdom of God." I didn't open the taxi door – I did not respond to the young girl's need--perhaps because of well-meaning caution but perhaps, as I know my own heart, for the same reason wealthier Christians are statistically stingier at the offering plate than those with lesser incomes.
Yet Christ submitted Himself to death's poverty that I might become rich. I am to give as generously as I have received. The Apostle Paul praised the Macedonian churches, who, out of their own poverty, gave sacrificially to alleviate the economic needs of others. Paul urged the Corinthian churches to practice the same "grace of giving," which was already transforming lives among the impoverished (2 Corinthians 8:1-9).
Am I modeling the grace of giving to my children? A roadblock opened ahead in the stream of traffic, and our taxi lurched forward. The girl vanished. As we continued on our way, my daughter said thoughtfully, "We're rich." I nodded. "Why is that?" she asked. Overwhelmed by her important question and the inequitable distribution of wealth in the world, I didn't know what to say. So, I am asking God for the answer.
Note: Artwork reproduced with permission from Singapore Art Museum.
Emmanuel Garibay (b. 1962)
An Encounter on the Road to Fantasy, 1993
Oil on canvas
149 x 183 cm
Singapore Art Museum collection
Emmanuel Garibay was a member of the now-defunct Salingpusa, a group of muralists which sought to address the prevailing social and political conditions in urban Manila through their collaborative works. An Encounter on the Road to Fantasy, staged along Manila's infamous traffic-jam prone highways, plays out a narrative about the social conditions of urban Manila. Here, the luxury car is the vehicle – literally and symbolically – for his social message about the severe disparity of wealth and pervasive hopelessness of those mired in poverty. A young child, with infant in arms, begs for alms but is sharply rebuffed by the wealthy occupants of the car. The swirling clouds, garish reds and oranges, distorted perspective and claustrophobia conjure up a hellish dream, but for the urban poor, there is little escape from the nightmare of everyday reality.
Copyright © 2008-2015 Julie Strohkorb
Read more about the writer: Julie Strohkorb
---
Reader Comments...
2010-03-03 13:15:00
"Great, thought provoking article!!!!"
- Aleta
---
Post Your Comment...
---