Broken But Not Bitter: Young Heroes of the Faith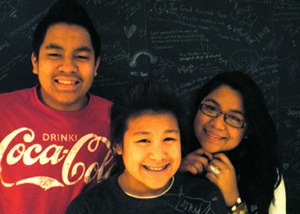 Today I had the privilege of screening three teenage siblings for ministry in our children's church. I have known them since their family joined our church Body and were in Kids Church themselves. This is one of my greatest joys—to see children grow up physically and spiritually!

In separate sessions, I asked these teens questions about themselves and their reasons for wanting to minister. I was refreshed to hear that they want to pass on to others what they themselves have received. The brother mentioned that he used to love to watch Veggie Tales, and now he realizes that there are so many life lessons thrown in with the fun! As I lead children and teach them the Word, I am praying for the moments when the knowledge about God is transformed into an understanding of God--when their relationship with Jesus becomes real and personal.

When asked what their most difficult time in life has been, they each pondered and answered that the present time has been the hardest. You see, their parents are getting a divorce. Both parents are believers in Jesus, and yet the circumstances of the past seem to be impassable for reconciling. Although this has been the hardest thing they have ever faced, I was touched by the perspectives of these teens. One of them told me that this is a test for the family. "Even though this is really hard, it's time to put into action everything we have been taught and to trust in God." What an insight for a 15 year old! They also have decisions to make. Who will they choose to live with? No matter what they decide, they seem to lose, because one of their parents will be disappointed.

So here they are, at the toughest time in their lives, and they are meeting with me so they can commit themselves to minister in Kids Church every week! At a vulnerable time, when the enemy of their souls would love to convince them that this Christianity thing is a hoax, they are digging in and devoting themselves to love and bless other kids! I have to smile and thank God because the enemy's plan for these teens is being derailed. The Bible says that if we "submit to God, and resist the devil, that he will have to flee!"

I believe that God is still standing at the door, waiting for the invitation to come into the lives of His children. He desires to "dine" with us and then to lift us above each negative circumstance. Although their lives have been broken, they have refused to become bitter by it, and instead have made a decision to reach out to others in spite of their own pain!

God is raising an army of Christ-followers and He is not a respecter of age! These are the young "Heroes of the Faith!" My experience is that people who are far from God are very interested in hearing what young people have to say about their faith and passion for Jesus. May the Spirit of God continue to raise them up, make them strong, and empower and anoint them to win this generation for Christ!
Copyright © 2008-2015 Dawn Sheridan Kollar
Read more about the writer: Dawn Sheridan Kollar
---
Reader Comments...
2010-05-03 08:41:19
"Thanking God with you for these three awesome youth that God has blessed the kids with. They should definitely minister at our next children's encounter... maybe even participate in some teaching? What an inspiration they are at such an awesome age!"
- Tara
---
Post Your Comment...
---