"Oh, Be Careful Little Eyes What You See . . . and Read!"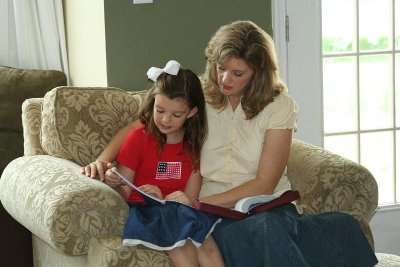 Last month I wrote about the importance of being careful in what our ears hear through our music choices. This month I want to tackle an even more difficult area to discern . . . what we read! Someone once said that you could never have too many books.
Well, I would have to agree and disagree, because it depends on the content. In short, great literature, carefully selected, can mold and shape lives for the glory of God. Bad literature (and yes, that' s no t an oxymoron!) chosen without discretion, can lead the mind of the Christian to a compromise of God's standards and eventual peril to his/her soul.
". . . but each one is tempted when, by his own evil desire he is dragged away and enticed. Then, after desire has conceived, it gives birth to sin, and sin, when it is full grown, gives birth to death." James 1:14-15 (NIV)
Reading is still enjoyed by many people, but unfortunately in a society filled with electronic technologies, television, and computers, the love of reading has become less common. My husband as a pastor recommends many books to help those he is counseling, and he is amazed at a common response—"Pastor, I never read . . . or I don't even enjoy reading." Our church library is filled with over two thousand resources, with Christian materials ranging from books, DVD's, to CD audio teachings/dramas. Our librarian commented to us that the number one check out category (from adults to children) are DVD's! Clearly, we are losing our love of reading . . . and reading good literature!
May I suggest, though, that reading for the Christian cannot be an option in life. Those who love God will love to read His Word, and this often extends to a love of reading in general. With literally thousands of books available for Christians to read, how can we know which ones are best? For the Christian, whose eyes and mind belong to Christ, this question takes on special significance.
"The eye is the lamp of the body. If your eyes are good, your whole body will be full of light. But if your eyes are bad, your whole body will be full of darkness." Matthew 6:22-23 (NIV)
"I will set before my eyes no vile thing." Psalm 101:3 (NIV)
The term "literature," as commonly defined, includes fiction, poetry, and drama. Should a Christian even read literature at all? Should we only read the Bible or books that aid our spiritual walk? Is there Scriptural evidence for the reading of literature? (I would like to note that a major source of inspiration for this article and what follows came from reading an article by Jim Hendry entitled "A Christian Approach to Literature.")
Our primary evidence is Scripture itself! The Bible uses literary forms throughout its entirety. For example, the Book of Psalms is among the most-loved of all Scripture because of its poetic expression of emotions common to all of us.
Another example would be Moses. As he helped to write God's Word, he did so from a thorough knowledge of literature: "And Moses was learned in all the wisdom of the Egyptians, and was mighty in words and deeds." Acts 7:22 (NKJV)
The Apostle Paul clearly had tremendous knowledge of literature from the Greek poets, for he states in Acts 17:28b: "As also some of your own poets have said, 'For we are also His offspring."
So, I believe we may conclude that the reading of literature is acceptable for Christians. But, does this mean that all literature is acceptable for the Christian?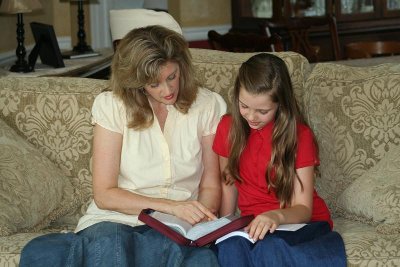 "Everything is permissible for me"—but not everything is beneficial. "Everything is permissible for me"—but I will not be mastered by anything. 1 Corinthians 6:12 (NIV)
Consider, for example, popular romance novels—the Christian bookstores are loaded with them! Do I want my six daughters reading books that will "awaken love before its time," or worse yet . . . set them up for disappointment when no real life marriage can compare to these airbrushed fantasies? I have personally spoken with women who have read romance novels and have shared how it has spawned discontent in their marriages.
As Christians, we must continually evaluate what we read, what we allow our children to read, and our overall home library collection. Do the books we read draw us closer to Christ or help us better understand Biblical principles? Or . . . are the books a stumbling block, causing us to question the validity and perfection of God's Word?
How do we enjoy reading and still maintain "clean hands and pure hearts"? (Psalm 24:4) No doubt, to avoid all evil is not always necessary. Scripture itself is filled with the vilest of sins. However, we are to read it for a reason: to remind us of our utter depravity and hopelessness apart from God. We also read in Scripture the consequences of individuals who chose rebellion against God. On the other hand, this does not mean that we should read literature (or watch movies) filled with perversion and the glorification of death.
Ask yourself these two questions when choosing literature (or watching movies) that depict evil.
Is there a clear reason for the representation of evil, or does its representation seem gratuitous or extraneous?
Is the presentation of evil, if it has a legitimate purpose, done so to an acceptable degree, or is it more explicit or vivid than the purpose warrants?
What about the times when we have seen or read presentations of evil that have been either gratuitous or overly explicit? Dear friend, our God is so forgiving (and so are our children) and much bigger than our parenting mistakes. He loves our precious children even more than we do; and He will cover us in our times of ignorance, as well as pour out His grace when we genuinely repent and purpose to "turn around" in this area.
I pray that this article is an encouragement to you, as well as a resource giving you new things to process as we enter "Summer Reading" and before we realize it, a new school year.
I am happy to list below some wonderful God-honoring literature that our family loves, and we anticipate you will love them, too!
Hinds Feet on High Places by Hannah Hurnard
Lamplighter Books Series by Lamplighter Publishing (www.lamplighterpublishing.com –This includes many excellent dramatic audio renderings of their books as well . . . great for those summer trips!)
Pilgrim's Progress by John Bunyan
Little Pilgrim's Progress by Mrs. Howard Taylor, Moody Press
Stepping Heavenward by Elizabeth Prentiss, Barbour Publishing
Choice Stones for Children by A.B. Publishing, Inc.
Life of Faith Series by Martha Finley, Mission City Press
Sisters in Time Series by Barbour Publishing
Christian Heroes: Then and Now by YWAM Publishing
A Chance to Die: The Life and Legacy of Amy Carmichael by Elisabeth Elliot, Revell Publishing
Through Gates of Splendor by Elisabeth Elliot, Revell Publishing
Keepers of the Faith: www.keepersofthefaith.com; Many titles from preschool to Adults (Our favorite catalog of books. We trust this company and love all their books and materials.)
Vision Forum: www.visionforum.com; Many titles for all ages and categories. Great adventure books and materials for boys. Great books and materials promoting godliness and purity (as well as adventure!) for girls. (Our other family favorite!)
I could list close to a hundred individual titles, but these are publishing companies that our family has learned to trust.
Be blessed as you seek the Lord for your family literature choices!
Copyright © 2008-2015 Alyson Shedd
Read more about the writer: Alyson Shedd
---
Reader Comments...
2011-12-09 03:38:56
"Some time ago, I really needed to buy a good house for my business but I did not earn enough money and could not order anything. Thank heaven my fellow proposed to try to get the loans from reliable creditors. Hence, I did so and was satisfied with my commercial loan. "
- Trudy
2011-12-09 02:46:41
"Set your life time more simple get the personal loans and everything you want. "
- Cassie
2011-08-16 19:17:02
"When you're in a not good position and have got no cash to go out from that point, you would have to receive the loans. Because that would aid you emphatically. I take college loan every time I need and feel myself good just because of it. "
- Marissa
2011-05-08 16:24:28
"Thank you so much for this excellent post. This has been on my heart and mind of late with my own children. I am sad to say that I have not made wise decisions in the past in this area and am just now trying to turn the tide. I look forward to reading more of your writing."
- Sandy
---
Post Your Comment...
---