< Back to Strength for Your Spirit
"Designed with a Purpose"
For Thou didst form my inward parts; Thou dist weave me in my
mother's womb. I will give thanks to Thee, for I am fearfully
and wonderfully made;…" (Psalm 139:13-14a NASB)
"Before I formed you in the womb I knew you, and before you
were born I consecrated you; I have appointed you a prophet
to the nations." (Jeremiah 1:5 NASB)
"For I know the plans I have for you declares the LORD, plans
for welfare and not for calamity to give you a future
and a hope." (Jeremiah 29:11 NASB)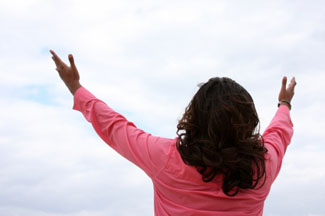 It is very common for adults to ask children what they would want to be when they grow up. One would get various answers depending upon their experience, age and current interests. If it is an aspiration that meets the parents' approval, they would do what they could to foster the development of the skill necessary for that vocation. As parents, we would probably all agree that childhood is preparation for adulthood. There is something our child(ren) would do in this life that would contribute to the wellbeing of society. As parents, we anticipate that our children will accomplish great things and find fulfillment in life. As they grow, we look proudly and gratefully on each accomplishment.
The Reality of Purpose
This is similar to how God views all of us. The difference is that we have hope and expectation. God has knowledge and deliberate design. The above verse in Psalm 139 says that God is the one who formed us in our mother's womb. In Jeremiah 1, God says He knew Jeremiah before he was even formed in the womb and appointed him for ministry before he was born. Regardless of the circumstances of our arrival on this planet, we are here by Divine design. We have been meticulously formed for a Divine purpose. The color and texture of our hair, the color of our eyes and skin, the shape of our nose, the size of our frame, etc. is uniquely designed for His purposes. God loves variety. Just look at nature. Even each snowflake has its own design. Not only are we uniquely designed on the outside but our inner person is uniquely designed as well. God has given each of us a unique personality and gifts both natural and spiritual. Our external appearance, our personality and gifts together form a unique individual that cannot be reproduced. Many times we fail to appreciate the way God made us because we compare ourselves with others. This causes us to either devalue ourselves or the other person. Each of us is uniquely designed for a purpose. We never find complete fulfillment until we discover and move in that purpose. We may have various assignments and experiences that God will use to mold, shape and prepare us for that purpose (Romans 8:28). We must also delight in our uniqueness because God in all of His might and power delights in us (Zephaniah 3:17).
The Discovery of Purpose
This leads us to the question of how do we discover our purpose? First, we must realize that the purpose of anything is found in the mind of the one who made it (Myles Monroe, "In Pursuit of Purpose"). So, we must realize that our purpose lies in the mind of God, the one Who created us. So, the first step in discerning our purpose is to get to know God. He provided a way for this to be possible through Christ's death and resurrection. Faith in Christ for forgiveness of sins establishes a relationship with the living God. John 1:12 NASB, states that "to as many as received Him (Jesus), He gave the right to become children of God, even to those who believe in His name."
Secondly, we must submit the control of our lives to God and renew our mind with His word. Romans 12:1,2, exhorts us to submit our bodies to Christ and to allow ourselves to be transformed by renewing our minds with the word of God. This enables us to receive direction from God which we call "hearing His voice." Once we receive direction, we must follow it. John 10:3-5, records Jesus saying that His sheep (His followers) hears His voice and the voice of a stranger they will not follow. It is implied here that His sheep, hear and follow Him. When a mother gives a child instructions and he or she does not act on it, she tends to ask the question, "Did you hear me?" Proving that even in our own lives, " hearing " implies the expectation of a corresponding action. So it is with our relationship with God. He does not just speak to be heard and evaluated but to be obeyed. It is interesting that Jesus uses the metaphor "sheep" to describe our relationship with Him. Sheep have no internal sense of direction. They simply follow external stimuli and can easily wander off and become prey or fall victim to lurking dangers if it were not for the voice of their shepherd. The sheep are completely dependent upon the guidance of the shepherd. Likewise, we are to be completely dependent upon Christ.
Thirdly, we should pay attention to what stirs us. We must ask ourselves, "What do I absolutely enjoy and what really bothers me?" The answers to these questions may be indications of one's passion(s). Discerning our passion places us on the road to discerning our purpose.
The journey to discerning and fulfilling our purpose is indeed a journey. It is filled with various assignments and even trials. As we accept our unique design, live in relationship with God and submission to Him, He will lead us to the fulfillment of our purpose. Because Saul (Apostle Paul) was into religion and not in relationship with God, he found himself vehemently persecuting the very religion he was designed to promote (Acts 9:1-22). Once he had an encounter with Christ and began to grow in the knowledge of the truth and in relationship with Christ, the Holy Spirit sent him on the course of fulfilling his purpose (Acts 13:2,3). Paul at the end of His life had the satisfaction of knowing he had fulfilled his purpose (2 Timothy 4:7,8). Wouldn't we all like to have that satisfaction? We can as we follow the One Who has made us. Let's pray.
Prayer
Dear Lord, thank you for designing me for a purpose. I agree with You that I am not a mistake or a misfit. I submit my life to You as my good shepherd. Lead me to the fulfillment of my purpose and destiny. In Jesus' name, Amen.
Copyright © 2008-2015 Shermaine Jones
Read more about the writer: Shermaine Jones
---
Reader Comments...
2010-05-02 16:49:50
"OUTSTANDING!! Really enjoyed reading. Whatelse can I say...You are Awesome. Blessings..."
- Portia
2010-05-02 16:12:51
"Professor this was like sitting under your instruction in class. I thank God for this message "Designed With A Purpose" By the way, on Saturday I spoke to a women's group on "Women...Destined for A Purpose." My mind and heart became flooded with all the information and journeys that we took in our pursuit for Purpose. I'm sending this to my bio sister and other sisters. Be blessed in all you do. Love,"
- Diann
---
Post Your Comment...
---