Stripped of All Dignity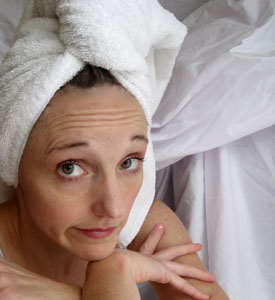 Many brides around the world practice extensive beautification rituals before the wedding day. Some women in India apply turmeric paste to the skin to brighten the complexion. Brides in many parts of Asia and the Middle East decorate their limbs with henna designs.
Traditional Moroccan women enjoy an elaborate bath of scrubbing, soaking, and steaming with various ointments and mud. But I had just one ritual on my pre-wedding agenda over a decade ago: Smooth legs to replace my usual stubble trouble.
I made an appointment with a local salon for waxing, blissfully unprepared for the exquisite pain of this hair removal procedure. After the first strip, the beautician assured me that even hairy Mediterranean men were her best clients, so I should take heart. I almost cried. At least, I thought in between rips, this will prepare me for the initiation of childbirth. I chewed gum during the procedure. That helped. The results were "bald and beautiful," according to the beautician.
I promptly switched back to razors after that episode. I didn't wax again until just before the birth of my first child. My hormonal mind, insisting upon particulars, absolutely would not have my cactus legs in a hospital gown. The beautician resisted at first, but ultimately didn't try to argue with a pregnant woman. During this procedure, however, one wax strip wouldn't peel off! The beautician slapped my leg to distract me from the pain shouting, "C'mon, mama!" I went in to labor just a few days later.
Waxing at a salon is pricy on so many levels. In fact, with kids and a budget, I easily kicked professional waxing off my list of painful beauty procedures. But when my daughter hugged me one day and rebuffed with, "Mom, you're prickly!" I decided to take a trip to the beauty discount store for a home wax kit. For the drastic difference in price, I was willing to take a risk.
I retreated to the bathroom one quiet evening to begin my secret ritual. Step One: Heat the oil. I submerged the tube in hot water while reading the directions several times and admiring the fancy linen strips in the package. Step Two: I dipped the stick into the honey wax goop, and smeared my first application. Rip! "Bald and beautiful," I thought. How easy. Now I had some wax residue on one finger, so I decided to use my next clean finger. That plan worked nine more times. But eventually, the wax cooled and seemed harder to manipulate. I ran out of clean fingers and linen strips, which necessitated using the other side of each strip, compounding my sticky situation.
Soon, this beauty event careened out of control. All my fingers were stuck fast with wax. Anything I touched became part of me. The little bottle of wax remover provided in the "easy at-home kit" was no match for this super glue. I was stuck. I knew what I had to do, and it was humiliating. I called for my husband.
He opened the bathroom door to find me sitting on the floor with my fingers glued together, half naked, with linen strips hanging like flags of surrender from my body. I was a bug stuck in flypaper at the end of my summer. He could have gotten the camera at this moment. But instead, as a man of dignity, he fetched the mineral oil to free me from myself. Next time I am brave enough to get a wax job, I'll stick to the salon.
Copyright © 2008-2015 Julie Strohkorb
Read more about the writer: Julie Strohkorb
---
Reader Comments...
2010-05-18 19:55:39
"too funny..love it"
- Sherry
---
Post Your Comment...
---