Nasi Kuning (Indonesian Yellow Rice)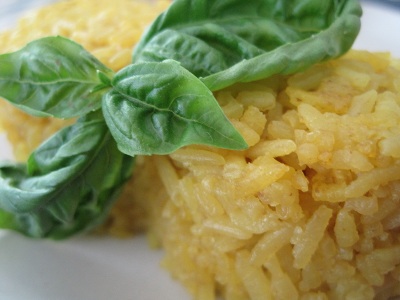 This delicious sweet rice is used for special celebrations among the people of Indonesia, symbolizing wealth and dignity. The preparer often molds the rice after cooking into decorative shapes for fantastic display with tropical fruits and meats.
During important ceremonies, the rice is heaped into a cone shape, representing a mound of gold. At the appointed time, the top of the cone is cut and given to the most important guest at the celebration. The nasi kuning recipe varies according to region among the islands of Indonesia, as cooks experiment with sweet aromatic spices such as coriander, cloves and cinnamon. But the beautiful sight and smell of yellow rice signals celebration for all.

Ingredients:


3 cups beras (hulled rice)
3 cups santan (coconut milk)
2 cups air minum (water)
1 teaspoon garam (salt)
1 teaspoon kunyit (turmeric)
2 leaves daun jeruk (orange leaf)
4 leaves daun salam (Chinese bay leaf)
1 tablespoon finely chopped serai (lemongrass)
¼ teaspoon cengkih (ground cloves)
¼ teaspoon kayu manis (cinnamon)
3 tablespoons mentéga (butter)

Directions:


Bring all the ingredients to a boil in a saucepan, except butter.
Simmer for 20 minutes on low heat until all liquid has been absorbed, stirring occasionally.
Turn off the heat and cover, allowing rice to stand for 20 minutes.
Add butter and fluff, then mold into shape, using any plastic mold to press the rice.
Serve hot.
Yields 10-12 servings.
Copyright © 2008-2015 Julie Strohkorb
Read more about the writer: Julie Strohkorb
---
Post Your Comment...
---