< Back to Kitchen Keeper Recipes
Ultimate Gluten-Free Chocolate Chip Cookies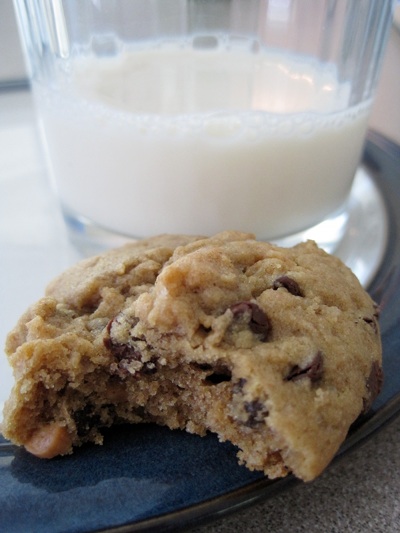 Making gluten-free cookies that actually look and handle like real cookies requires some trial and error. The gluten in wheat flour is the "glue" that makes the cookies stick together. Without gluten, cookies often spread out on the pan, burning the edges and leaving the middle only partially cooked.
Try scraping such a mess off the pan! But gluten-free dieters can use another kind of glue for cookie baking – nut butter. The following recipe contains peanut butter as the binding agent to create lovely cookies, but you can try cashew butter or almond butter to experiment with different flavors, too. Enjoy!

Ingredients:


½ cup butter, softened
½ cup peanut butter, or your own nut butter of choice
½ teaspoon vanilla extract
1 egg
1/3 cup brown sugar
1/3 cup granulated sugar
1 heaping cup of flour (brown rice flour and cornstarch combined)
½ teaspoon baking soda
½ teaspoon salt
½ teaspoon xanthum gum
1 cup chocolate chips

Directions:


Preheat oven to 350 degrees (180 degrees Celsius) and grease pan.
Combine all wet ingredients into a large bowl and stir. Next, add the white and brown sugars to wet ingredients to help the sugar dissolve.
Combine the rest of the dry ingredients into a small bowl, sifting together.
Add the dry ingredients to the large bowl of wet ingredients, and mix until blended.
Fold in chocolate chips (and walnuts, too, if desired) and stir gently. The dough should be thick and pasty, not runny.
Drop by the spoonful onto a greased pan and bake at 350 degrees for 8-10 minutes.
Eat and enjoy sharing with your gluten-free friends! Yields 1 ½ dozen cookies.
Copyright © 2008-2015 Julie Strohkorb
Read more about the writer: Julie Strohkorb
---
Post Your Comment...
---