< Back to Kitchen Keeper Recipes
Easy Tacos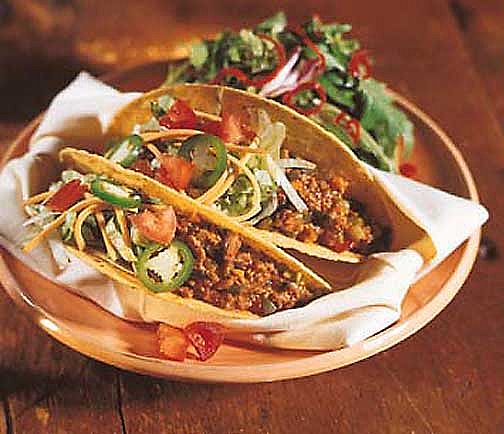 Here's an easy quick dinner that the whole family can adjust to their own preferences.
Ingredients:
1 ½ lbs ground beef
1 small can tomato sauce (11 oz)
3 tsp. chili powder
2 Tbs. cumin
Chopped onions or onion powder
Directions:
Brown the ground beef, adding onions or onion powder. Drain.
Add remaining ingredients and mix thoroughly.
Heat on high for a few minutes, then reduce heat and simmer for 10 minutes.
Spoon into taco shells or tortillas with your favorite toppings: sour cream, lettuce, tomatoes, shredded cheese, guacamole, or salsa.
Serve with Mexican rice or a side of refried beans or both.
Enjoy!
Copyright © 2008-2015 Dawn Sheridan Kollar
Read more about the writer: Dawn Sheridan Kollar
---
Post Your Comment...
---