A Camping Checklist for Kids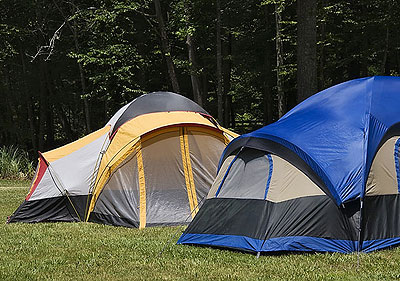 Recently I enjoyed a photo presentation given by a group of middle school students who journeyed to the Australian Outback for a science field trip. The pictures brought back my own memories of camping as a kid – jumping off rocks into freezing cold pools of water, eating dinner from a coal-singed aluminum foil packet, and singing songs around the campfire.
I remember larger-than-life moments of testing my athletic abilities on the high-ropes zip line, and resting under a huge yellow moon after a long day of canoe camping. Fun outdoor experiences for children can become memory-making shelters of peace and respite for the adult years. But preparedness is one of the keys to a successful camping experience.

If your child is heading to a residential camp this summer, consider the following packing checklist to help make the experience safe and fun. Your camp's management should also publish a complete list of necessary items for campers.

Safety essentials
Preventatives like sunscreen, bug spray, hand-wipes, extra bandages and a small first aid kit improve kid comfort in the outdoors. Nothing dampens a cheerful camper like sunburn, a mosquito bite, or a bad scrape.

Special foods
Does your child have a favorite treat that is vacuum sealable? Comforts from home can add fun and provide opportunities for sharing with others. If your child has a significant food allergy, though, check with camp management first to ensure that a proper diet is possible. Educate camp staff about your child's special need.

Flashlights and extra batteries
An extra pen light attached to a backpack zipper can be a lifesaver during the "I can't find my flashlight" times. A readily available flashlight is an essential for midnight trips to the bathroom.

Water bottle with carrying strap
Children dehydrate quickly without adequate liquid intake, especially if playing out in the hot sun. Encourage water drinking with an easy-to-carry canteen.

Heavy-duty plastic bags
Depending on how rugged the terrain and weather, plastic gear is always a good idea to help kids stay dry. Add in a clothesline and clothes pins if damp weather or dirty laundry is a serious issue.

Appropriate clothing
Check with your child's camp ahead of time to ask about any specific gear required, such as swimming or rain gear, shoes, hats, sunglasses, or long-sleeved shirts and pants. Putting clean clothes inside sealable plastic bags will keep things dry and organized. Avoid flip-flops at camp, except in the shower. Many camps include hiking so be sure there are comfortable, durable shoes for such excursions.

Writing journal and disposable camera
You can slip a special note of encouragement inside a journal for your child to find during the week. I still enjoy my notes and pictures from camp experiences decades ago – how goopy we got at the mudslide and how tired we all looked after playing volleyball! Kids will cherish the picture to prove that they actually did take that leap of faith.

Camp is a special investment in your child's li fe. These little comforts from home can help make it a priceless memory.

Additional Suggestions:

Include a note a day in various places in the luggage or put notes labeled for each day in a packet. This will give the child something to look forward to each day. You can "sweeten" the message with a dollar bill or some hard candy, etc. (Don't include meltable candy!)
Depending on the age and independence of the child, it may be helpful to put all the clothes for a day (shirt, shorts/pants, socks, underwear) in a plastic packet so the child only has to find one thing to be ready for the day—and hopefully looking somewhat "put together."

Happy Summer Camping!
Copyright © 2008-2015 Julie Strohkorb
Read more about the writer: Julie Strohkorb
---
Post Your Comment...
---