In God We Trust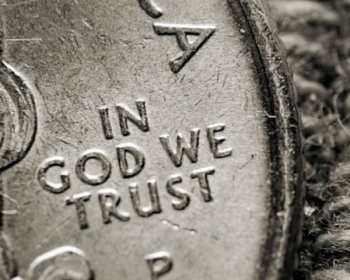 I have been challenged in the past few months to take an honest look at myself and consider the real source of my trust. As a follower of Christ, I am quick to say that my trust is in God.
Although the words roll readily from my lips, my thoughts reveal that my heart may be trusting in my job or my bank account more than I like to admit. As an American, I find it interesting that our national motto, "In God We Trust," is printed on all of our currency. On the very thing we are tempted to put our trust in, our money, we find a reminder that our trust should be in God!
My husband and I are staff pastors at the same church and we have seen the effects of the economy this year. We have been challenged to reduce the budget, freeze spending and even at times to furlough hours to reduce payroll. Throughout this process it is tempting to slip into negative thinking patterns. Will it get worse? Will we be able to pay the bills? Will we be able to keep our home? What about our retirement? What about our reputation? They may be valid questions, but when we focus on the uncertainty of the future, we find ourselves becoming fearful.
Love Cast Out Fear
Being "fearful" is being "full of fear." Fear leads to devastating results—sleepless or restless nights, tension in our physical bodies, irritability in relationships, lack of productivity for work and discouragement. None of us would intentionally choose any of these results for our lives, so what do we do to avoid them? How do we trust in God when we are surrounded by circumstances that are frightening to us?
One day at a time and one moment at a time, we may choose to believe in God and focus on what He says. What does God say about fear? 1 John 4:18 says, "There is no fear in love. But perfect love drives out fear, because fear has to do with punishment. The one who fears is not made perfect in love." God wants you to know that He loves you and is not trying to punish you for past mistakes, so don't be afraid! Instead, you can REST in His love, believing that He will take care of you. Whenever a fearful thought comes into your mind, you have a choice—you can receive it and worry, OR you can give it right back to God and remind yourself that He loves you and that you can trust Him.
God Provides Fully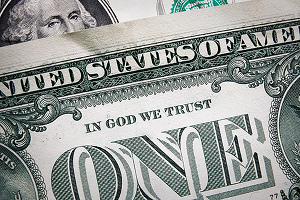 I have three children whom I love and would do anything to keep them safe and to provide for their needs. Although I have limitations as a parent, God does not! My daughter has been teaching first grade for two years and her school district announced that they needed to furlough ten elementary teachers. Being one of the most recently hired, she was certain to lose her job. We prayed and put our trust in the Lord, believing that whatever the outcome, He would be her provider. To our joy, we recently learned that several teachers retired, preserving her position!
We can be confident that God loves us all as a perfect Father who knows what is best for each one of us. He will not allow us to go through more than we can handle with His help. He will give us His strength to get through each day with His rest as we choose to trust in Him.
God's Word is Secure
Here are some of God's words to meditate on and live by:
1 Thessalonians 5:16-18 (NIV) "Be joyful always; pray continually; give thanks in all circumstances, for this is God's will for you in Christ Jesus."
Joshua 1:9 (NIV) "Have I not commanded you? Be strong and courageous. Do not be terrified; do not be discouraged, for the LORD your God will be with you wherever you go."
Proverbs 3:5-10 NIV) "Trust in the LORD with all your heart and lean not on your own understanding; in all your ways acknowledge him, and he will make your paths straight. Do not be wise in your own eyes; fear the LORD and shun evil. This will bring health to your body and nourishment to your bones. Honor the LORD with your wealth, with the first fruits of all your crops; then your barns will be filled to overflowing…"
Philippians 4:6-9 (NIV) "Do not be anxious about anything, but in everything, by prayer and petition, with thanksgiving, present your requests to God. And the peace of God, which transcends all understanding, will guard your hearts and your minds in Christ Jesus. Finally, brothers, whatever is true, whatever is noble, whatever is right, whatever is pure, whatever is lovely, whatever is admirable-if anything is excellent or praiseworthy-think about such things. Whatever you have learned or received or heard from me, or seen in me-put it into practice. And the God of peace will be with you."
Dear God,
Please help us today to put all of our trust in You. We believe that You love us and that You proved it by sending Jesus to be our Savior and our friend. We lay down every worry and fear and ask You to keep us at rest and at peace in our spirits so You can flow through us to be a blessing to our families and to those You bring into our lives. Thank you!!!
In Jesus's Name, Amen!
Copyright © 2008-2015 Dawn Sheridan Kollar
Read more about the writer: Dawn Sheridan Kollar
---
Post Your Comment...
---