Summertime Popsicles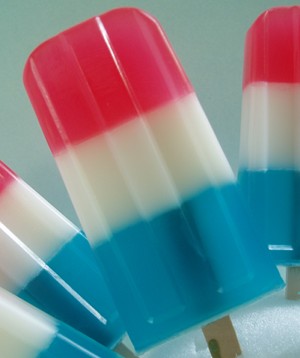 A great idea for an activity and snack for children in the summertime is Homemade Popsicles. They are easy to make and great for all ages. Here are some tips to help make such a fun treat.
You can use an ice cube tray, but for bigger, more fulfilling popsicles you can use empty washed out yogurt cups.

You also need some popsicle sticks, which you can get at a craft store or Walmart

Now you need to pick what flavor you want to put in popsicle

You can always use koolaid, it is great because there are so many colors

You can use your child's favorite juice: orange, apple, grape, or pineapple, this makes it a bit healthier

You can use lemonade, those are quite refreshing

You can even make fudge-like-sicles using chocolate milk. Yum!

They take about an hour to freeze, but the thicker the liquid you use, the longer it will take.

When you freeze them, you will need to fill the cup with your liquid, cover it with plastic wrap and then punch the popsicle stick through the plastic. This will help the stick stay in place while it freezes.
You can also make some fun Fourth of July popsicles.

Instead of one liquid, you will need three: Fruit Punch = Red, Grape Juice or Blue Raspberry Koolaid = Blue, and White Grape Juice or Clear-ish Lemonade = White. It will depend on what flavors you want.

You will need to do the same thing as before, but just fill the cup a third of the way up with the first color, then freeze it.

When the first color is frozen, you add the second color and let it freeze, then add the third color and freeze.

This will, unfortunately, take three times as long, but it will look neat!
So, have fun with some special summer treats!!
Copyright © 2008-2015 Debbie Reynolds Harper
Read more about the writer: Debbie Reynolds Harper
---
Post Your Comment...
---