Exercising With Toddlers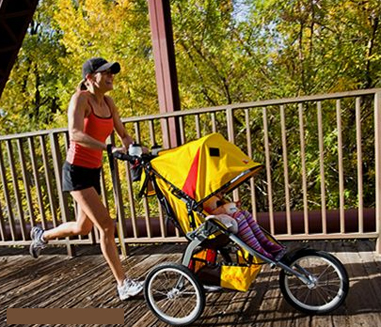 Okay . . . so it may not be the MOST treasured idea that I've had lately; however, exercising with your children is possible if you PLAN it ahead of time. I don't know about you, but trying to get to a gym or local recreation center with all the different schedules we have running through our house just isn't happening.
And me trying to wake up early right now to get the ol' sweat time in before the kids get up at 6am? I don't think so. I go to bed looking like Rip Van Winkle and wake up looking even worse. So what to do when you want to keep fit but feel like you never have the time? Make the family a part of your exercise experience . . . they're going to shove themselves into it anyway.
Sit-ups - my girls love to take turns sitting on my stomach when I'm trying to do sit-ups or crunches. Don't get me wrong, I don't invite them to increase my pain, they just do it. So, since I know that's something they like, I try to make it a game. I'll lie down on my back, place my feet up on a chair and begin crunching up. The key to exercising with little ones is KEEP IT SIMPLE. They, all on their own, will add extra twists and weight.
Walking/Running/Rollerblading - Throwing the kids in a stroller and walking, running or rollerblading is a LOT of fun and it's something they enjoy too. We like to run up to the post office or the Dollar Tree which is about a mile down the street from us. They like to put the money in the machine and buy stamps or pick out a drink and help Mommy get refreshed. No matter where you move to the key is just that . . . MOVE. You move all day long, I know, but it's different when you get to move at the same pace for a 20-30 minute period of time. Remember . . . keep it simple.
Muscle Toning - Again, KEEP IT SIMPLE SWEETIE! And creative. There are basic arm areas that you want to target (shoulders, biceps, triceps, chest) and basic leg areas (butt, outer/inner thigh, hamstrings, calves). Now remember, this is basic and simple, and I can't give you every great exercise in just a short article so let's start with something simple. Number one - always keep your tummy tight with your back straight. I would practice doing this all day long. It makes your posture better and really does prevent future injuries. Now, for a great arm exercise . . . pick up your child. Over and over again. Stand with your legs hip width apart then lift your child in front of you about eye level then lower the child as far as you can without compromising your position then lift the child eye level again. Repeat this until you get tired but have fun with it. So, if you can only do this 10 times today then try and increase it the day after next. Muscles need a break so don't work the same muscles every single day - try for every other day. As for legs, I love to place my feet up on a chair then lift the buttocks into the air (this will kill your hamstring). You repeat this in a quick fashion and feel the burn in the back of your legs. I will ask my daughter to hold my feet still and pray the other daughter doesn't jump on me (a great exercise to do during snack when the kids are strapped in to their high chairs). The main thing is to HAVE FUN!!!
So are you ready to make a go of it? That really is the first step. Trying something new, seeing what works and then revamping if you need to. What worked for me six months ago doesn't work now that my youngest daughter is almost 18 months. I have to revamp to meet her needs as well as mine; however, with persistence and consistency you will feel better and have a good time getting there. More tips next month! (It's amazing what you can use cans of corn for.)
Copyright © 2008-2015 Cindy Aitken
Read more about the writer: Cindy Aitken
---
Post Your Comment...
---