Some Things In Life Really ARE Free!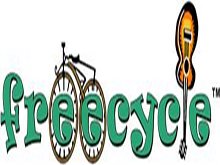 Genesis helps us understand that the world was created by God with purpose, and for His glory. Mankind, made in God's creative image, was given the explicit responsibility of tending to the earth, caring for it, and passing it on to our children's children.
The theme of stewardship echoes throughout the Word in parables, as well as the Proverbs, Psalms and prophets. Because this conservationist philosophy is so knitted into my understanding of Christian ethics, I struggle to throw anything into the dumpster, and cringe when I pass by curbside goods that haven't outlived their usefulness. Wastefulness seems irresponsible and reeks of materialistic greed to me.
For that reason, I Freecycle.
I first heard about the Freecycle movement when a friend had picked something up that she needed for her financially struggling family—for free—from some generous stranger. A quick search online brought me to the organization's homepage, and a link to the group in my area. What is "Freecycling," you ask? Brilliance! That's what!
When you have finished your personal need of something, you post an OFFER on the Freecycle Yahoo group of your region and wait. Typically within moments someone responds that they have some esoteric reason to need that very item you might have been moments from "tossing." Rather than watching your 20-year-old monogrammed bowling ball roll down the lane in the neighborhood dumptruck, pass it on!
If you battle the clutter monster in your home, reconsider those things you just cannot part with not as extra baggage to be moved around over and over again, but as gifts to share with others who know they are used and love them all the more for it!
Here are some of the amazing items we have received in just one year:
Homeschooling Materials—public school parents have offered up their children's partially used workbooks, and we have gladly taken them. We cut them up for our own math lessons, presentations and unit studies!
Office Supplies—I have benefitted from free glue sticks, No. 2 pencils, spiral bound notebooks, 3-ring binders, colored paper and bags full of every imaginable color of marker. I mentioned, didn't I, that we homeschool!?
When my son was learning to tie his shoes, I obtained a hand-me-down Freecycled puzzle of three shoes with laces. That did the trick!
Little packet of angel stickers. Never used. Perfect in my purse for busy fingers in church. Angels!
Costume Bits and Pieces—"WANTED" posts frequently request items needed for costumes. My daughter wanted to be a pink ghost for Halloween. Seriously. I got two hot pink pillowcases from a generous Freecycler who didn't need them anymore because they were fairly shabby. Shabby doesn't matter in the dark, or when you need to poke out eye holes!
Rug—when a 2' runner was left behind at a construction site, our living room was its beneficiary relocation.
Magazines—Family Fun magazine, full of crafts, science experiments, recipes and party plans, doesn't go out of style any more than Ranger Rick or National Geographic. I received a large stack I put to use with the kids right away. Hint #1 in crafting—use remnants to make new things!
Maternity Clothes—During my third pregnancy, the wardrobe my best friend and I swapped through our six combined pregnancies turned up missing. The oldest of the items was seven years old, so I was eager for a revamping of the collection anyway. I responded to an offer and received an overflowing full-size bag of perfect size maternity clothes—everything from shorts and tee-shirts to clothes appropriate for church! After I could fit back into my pre-pregnancy size again, I re-Freecycled the lot!
Boxes—A common exchange is boxes. People moving need them; then they need to get rid of them! Rather than paying for cardboard, find someone giving it away, then return the favor to another transplanting citizen!
Birding—One of the birding items we received was a nesting box my children hand painted and turned around as a Mother's Day gift to their grandma, who loved being able to hang their artwork outdoors for all to see.
Books—Read it. Done. Now what? "Pay it forward" on Freecycle. My children have received award-winning children's books from many a quick run out the door for a pick-up.
Lights…Camera! I received a camera from someone who had upgraded to a better digital one and wanted to pass on his older model. That digital camera is now the kids'; we pass it on for them to use without worrying about its replacement value, and they enjoy the photography hobby as a result.
Wall Clock—Teaching time with the kiddos. Got a cheap analog clock for their bedroom wall. Cheap? Ha! It was FREE!
Things we've given away:
Computers (and computer equipment, manuals, drives, etc.)—What may seem obsolete to you is an answer to prayer for a person running an older operating system. Check on eBay and Amazon to see if your selling effort is worth the money you might get for a sale. Figure in your labor hours, the bother of shipping and more, and, in the end, it's sometimes just easier and more efficient to give that mouse or keyboard away! Plus, frankly, it feels better.
Children's Toys—When my son repeatedly disobeyed the rules about picking up his army men one too many times, we found them a new owner. When stuffed animals outnumbered dust mites in the house, many found new, happy homes. When a moving neighbor thought he was being kind by leaving us a rusty, beat-up truck for the neighborhood kids, and we didn't have a space to store it, we found someone who saw its antique value. As my daughter repeatedly disregarded one ragdoll for all her brunettes, we discovered that someone on Freecycle preferred blonds. And the model sailboat that kept sinking from the windowsill to the floor is now in the more mature hands of someone able to keep it in tip-top ship shape.
Clothes—Clothes don't always fly off the rack at yard sales, but when marketed nicely on Freecycle, they can make their way into thankful hands--like the aforementioned maternity clothes that went to an unwed mother, and the rejected ballet socks my daughter received as a gift, but didn't like. Take a moment to explain the size, color, and an idea about how it might interest others, and you'll be surprised how others respond.
Diapers…are expensive! But when your baby moves up in size, what do you do with the spares that he cannot fit anymore? Pass them on via Freecycle!
Food—unopened food near the expiration date, which you know you will not eat can be passed on to others. We gave away a full bag of flax seed and some cans of vegetables we knew we wouldn't end up using after all. We received herbal tea samples.
Blankets—after three babies, our home had enough baby blankets that we could have knit them together into a quilt to cover it. I saved the favorites and got others into the hands of nearby grandmothers with visiting grandbabies.
Baby Items—Besides blankets, diapers and jars of baby food, we also gave away a jogging stroller and a baby front carrier, a breast pump and lots of bottles.
Our lists go on and on. We're in our fourth year at this! I feel comforted knowing that the Easter chocolate gifts my daughter is allergic to were passed on. I love thinking about someone attaching The Club to their steering wheel in the city when we found we never had need of it. And, when people compliment some item I am using practically in my house, it's not uncommon to hear me cheerfully sing out, "Freecycle!"
Being a good steward of your possessions and finances doesn't only mean balancing your checkbook, investing wisely and clipping coupons. It can also mean valuing one man's trash as your own treasure.
Take care of that with which you have been entrusted!
The LORD God took the man and put him in the Garden of Eden to work it and take care of it. Genesis 2:15
NOTE: How to Freecycle
Go to The Freecycle Network's homepage: http://www.freecycle.org/
Enter your zip code to find a group near you.
If there is no local group, start one!
Read the rules and post only four ways: OFFER, TAKEN and WANTED, RECEIVED.
Be polite when requesting someone's offer. Do not publish your personal contact information to anyone other than the person with whom you have an agreed exchange.
Show up where and when you say you will. All Freecyclers have a choice in who receives their item. Be gracious and a person of your word. Say thank you.
Repeat.
Copyright © 2008-2015 Lisandrea Wentland
Read more about the writer: Lisandrea Wentland
---
Post Your Comment...
---