How well do you know Abe Lincoln?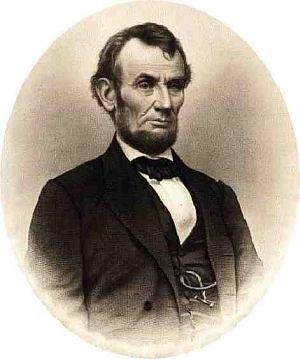 Lincoln's Gettysburg Address is one of the most well known speeches. Delivered on November 19, 1863 in Gettysburg, PA, it was given to our country in a time of great peril and division. His address resounded throughout history.
There is another address by Abraham Lincoln that is not well known. This is his 2nd Inaugural Address given March 4, 1864. I would have never known of this wonderful speech if it were not for my daughter, Emily, researching a report for her history class as a reporter of that day. It is written about his speech.
This is a report that will give more insight into the character of our 16th President and his faith in our Lord. Written by: Emily--6th Grade.
The Washington Gazette
A Christian's view point
March 4,1865
As a Christian, and a writer I thought President Lincoln's Second Inaugural speech was well done. President Lincoln delivered his speech on March 4, 1865. Even though it was raining and miserable out, President Lincoln was very inspiring to all of the citizens. At the time that President Lincoln is speaking, the Civil War is hopefully almost over. As late as August 1864, neither Lincoln nor his Republican Party believed he could win re-election. Lincoln would be the first president inaugurated for a second term in thirty-two years. Rumors abounded that Confederates might attempt to abduct or assassinate the president. Lincoln did not offer the North the victory speech nor did he blame the South alone for the evil of slavery. Instead, he offered a moral framework for reconciliation and peace. Lincoln's address was 703 words and was the second shortest inaugural address.
Lincoln mentions God fourteen times, quotes Scripture four times, and invokes prayer four times. The address sounded more like a sermon than a state paper. When Lincoln introduced the Bible early in the third paragraph, he entered new territory in presidential inaugural addresses. Before Lincoln, there were eighteen Inaugural addresses delivered by fourteen presidents. Each referred to God or the deity. The Bible, however, had been quoted only once before Lincoln. In September 1862, Lincoln had put his pen to the paper during one of the darkest, moments of the war.
"The will of God prevails. In great contest each party claims to act in accordance with the will of God. Both may be, and one must be wrong. ...In this present civil war, it is quite possible that God's purpose is something different from the purpose of either party," (Meditation on the Divine Will
).
The first eight words of Lincoln's last paragraph proclaim an enduring promise of reconciliation:
"With malice toward none, with charity for all."
These Words immediately became the most memorable ones of the second inaugural address. The clause in the last paragraph,
"to care for him who shall have borne the battle and for his widow and orphan," Shows Lincoln's compassion and sense of duty.
The Inaugural Ball will be held at the Patent Office in Washington D.C.
Copyright © 2008-2015 Nancy Panettiere
Read more about the writer: Nancy Panettiere
---
Post Your Comment...
---