< Back to Kitchen Keeper Recipes
Hoho Fruit Kabobs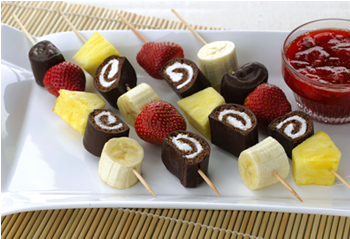 What a fun way to surprise the kids with these delightful snacks. Try these fun HoHo fruit kabobs at your next birthday party, or serve them as a special treat at your next social event. This recipe is provided by the Hostess Twinkie Company. You can find more things like this on their website.
Items Needed:
1 box (10 ounces) Hostess HoHos (10 HoHos)
2 medium ripe bananas
2 tablespoons lemon juice
2 cups fresh medium strawberries
1 cup fresh pineapple cubes
1 package (10 ounces) frozen strawberry halves in syrup, thawed
Directions:
Cut each HoHo in half. Cut bananas into slices about 2-inches thick. Very gently and quickly, toss bananas in lemon juice, stirring to coat evenly; drain well. This prevents the fruit from turning brown.
Alternately thread pieces of HoHos, bananas, strawberries and pineapple cubes onto 8-inch skewers. (Leave one end of skewer to use as a handle.)
Place thawed strawberries in blender or food processor; blend until it forms a smooth sauce. Serve strawberry sauce with kabobs.
A jar of chocolate topping makes a great optional dipping sauce or for drizzling over the kabobs.
Makes 10 kabobs.
Enjoy!
Copyright © 2008-2015 Debbie Reynolds Harper
Read more about the writer: Debbie Reynolds Harper
---
Post Your Comment...
---