Cajun Gumbo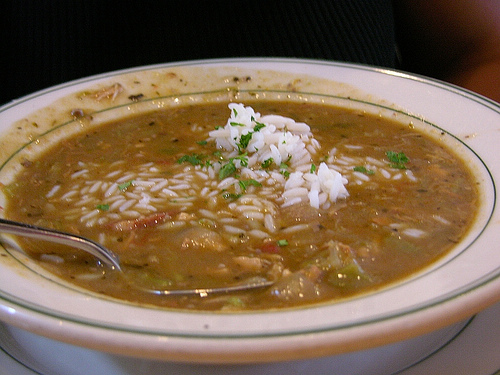 There's nothing quite like it. Gumbo is a big part of every family celebration we have. For more than 20 years, my mom has cooked up a big pot of gumbo every time the family gets together.
Growing up near the Gulf of Mexico in the Magnolia State of Mississippi located us right between the fresh gulf shrimp and the New Orleans Cajun recipes. It doesn't matter what time of year we see each other, we always have gumbo. It's our way of celebrating the good times we have.
We always look forward to some delicious fried shrimp, a big pot of shrimp gumbo served over rice, homemade sweet potato salad, saltine crackers and a glass of sweet tea. To our family there's nothing better on the menu!
The name gumbo comes from the African word that means "okra," which is one of the main ingredients. Browning flour slowly in an iron skillet for what could take upwards of three hours for a big crew creates what is called the "rue," a brown gravy like substance that makes the base for the gumbo. To that is added all the chopped up vegetables, like onions, celery, green onions, okra, tomatoes and green bell peppers, to which a few more hours of prep time are needed.
Chicken, crab, shrimp or oysters can be added, but everyone's favorite is always chicken and shrimp. Mom always boils the chicken and pulls it off the bone, and Dad peels and de-veins the shrimp, which adds even more time of preparation. Add the rice, potato salad and other foods for the meal and it's an all-day effort. It's certainly a labor of love. But the smiles and memories around the table are worth it.
If you have ways of celebrating that you enjoy, please let us know about them and we might share them with our readers.
Copyright © 2008-2015 Debbie Reynolds Harper
Read more about the writer: Debbie Reynolds Harper
---
Reader Comments...
2010-09-02 22:41:41
"Sounds tasty! Is there a recipe you can share?"
- Anne
---
Post Your Comment...
---