Your Victory is Minutes Away!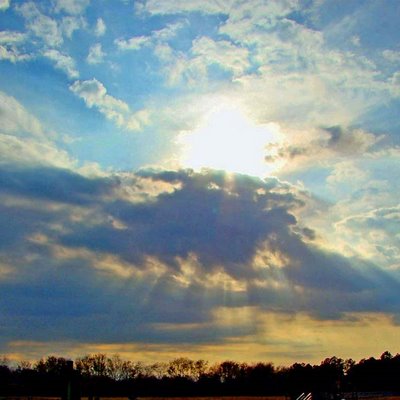 "And let us not lose heart in doing good, for in due time we shall reap if we do not grow weary." Galatians 6:9 NASB
"Finally, be strong in the Lord, and in the strength of His might." Ephesians 6:10 NASB
"Those who sow in tears shall reap with joyful shouting. He who goes to and fro weeping, carrying his bag of seed, shall indeed come again with a shout of joy, bringing his sheaves with him." Psalm126 :5-6 NASB
Have you ever faced opposition as you sought to travel the path God placed before you? Maybe you were pretty sure it was God leading you, but then you encountered obstacles. Since you agreed to obey God, you expected everything to go smoothly. Not long into the journey, however, you encountered challenges that caused you to consider quitting or putting it aside for a while. Be encouraged; these thoughts are not uncommon.
Recently, we were traveling from Virginia to Oklahoma to take our eldest son to college. We experienced much favor and blessings along the way. Even the weather was beautiful until the last third of the journey. Once we entered Arkansas, we encountered several pockets of torrential rains. It was raining so hard it was difficult to see.
My husband slowed the car, increased the speed of the wipers, and continued to plow along. When we encountered the first downpour, we traveled about fifteen or twenty minutes in those conditions. I was beginning to wonder if we should pull over and let it pass. We began to see cars pulled over on the shoulder of the road. My husband then verbalized what I was thinking, but he just kept on driving. Within a few minutes, we drove out of the rain into the sunshine. We almost gave up right before our breakthrough. We were doing the right thing, but we encountered conditions that were impeding our progress. We began to think that we should pull aside and wait for the trouble to pass—especially after seeing that others had the same idea. Somehow, even in opposition to our own thinking, we kept moving only to find that our breakthrough was just minutes away.
Life Lesson
This is how it can be in our journey of faith. We can encounter many things that could cause us to become discouraged and even quit. Encouragement can be found in the Apostle Paul's inspired words in Galatians 6:9, printed above. The words, "don't lose heart," encourage us to resist succumbing to fear or discouragement and to persevere in doing good.
One wouldn't think an admonition like this would be needed in conjunction with doing good. Doing good should make us feel good! The truth is that even in doing good, we can encounter hindrances. One may be tempted to lose heart in doing good because we are in an imperfect world that has been marred by sin. So, things may not always go the way we would like them to go.
We also must remember that we have an evil adversary who does not want us to succeed (Ephesians 6:12). So, he throws in hindrances and road blocks. We must find courage in the fact that since the Greater One lives in us (1 John 4:4), we have everything we need to persevere. Paul went on to say in Phil 3:14 (NASB), that he was "pressing toward the mark of the upward call of God." The phrase "press toward" is the idea of a "hot pursuit" toward a goal.
This causes me to think of a police chase. In a chase, the police are focused and determined to catch the criminal at all costs. This is the kind of perseverance that is needed for us to press forward on the path that God has for us. The admonition to persevere in Galatians 6:9 comes with a promise. It says that we shall reap the fruit of our labors if we don't grow weary.
The Greek word that is translated "grow weary" is the word, "ĕkluō." Which means "to relax" (Strong Concordance) or 'to unloose as a bow" on a stringed instrument (Vine's Expository Dictionary). This refers to the intensity of our pursuit. Not only are we to not give up, but we are not even to slack up or lose intensity or fervor in what we are called to do. In 2 Timothy 2:3-6, Paul gives illustrations of a persevering soldier, athlete and farmer who achieved their goals.
Life Application
What is it that God has placed in your heart to do for His glory? Have you encountered difficulties and resistance? Does it seem like you are plowing dry, hard ground or peddling up a hill? Don't mistake the difficulty as a sign to give up. James 1:2-4 tells us to not be surprised by fiery trials, for the trials have a purpose—to build perseverance and endurance. The time you feel the weariest may be right before your breakthrough. Keep your eyes on your goal, draw on God's strength (Proverbs 3:5,6; Ephesians 6:10), and keep on doing what God has given you to do! Don't give up! Your victory is just minutes away!
Let's pray.
Prayer:
Lord, thank You for making it possible for me to have victory over the internal and external hindrances that I face daily. I confess that I have allowed them to distract and even discourage me. Help me, Holy Spirit, to stay focused and determined to do what You've called me to do. I place my confidence in You and Your word that says that what You have called me to do, You enable me to do (1 Thessalonians 5:24). In Jesus's name, Amen.
Copyright © 2008-2015 Shermaine Jones
Read more about the writer: Shermaine Jones
---
Reader Comments...
2011-12-31 08:36:07
"Glory to God for now I understand clearly my heart has been weary for sometime..I found it most difficut to see cleart after much trails,opostion in doing what I know God has called on my life..in asking the holy spirit to give me a special word. I hwas came upon this blog..I now know without a doubt God is concerned about everthing I have been concerned with...what a word!"
- nancy
---
Post Your Comment...
---