How To Keep Your Man's Attention During Football Season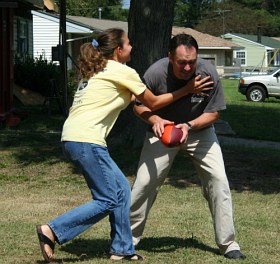 Huddle Up! All right, ladies, it's time to huddle up. The kick-off game has already come and gone, and the TV channels haven't seemed to budge on the remote since then. Monday night football . . . Sunday night football . . . all day Sunday . . . games from one end of the house to the other. (Don't be surprised if your husband requests an early "Father's Day" present, wanting a television installed in the bathroom. After all, he wouldn't want to miss any of the action.) In your mind, you've had it. Enough is enough. Even the sinking of the Titanic was only a few days before those poor people were put out of their misery. Why must you suffer? Well, let me help you get your thinking back on track and your man back in those arms again. You see, football is not the curse you believe it to be. Now, say it with me, "Football is not a curse. Football is not a curse." In fact, it can be quite fun to enjoy with your honey if you follow these three easy steps below. Trust me. . . I've got a Patriots' fan in my house . . . and these three steps work like a charm.
Step #1
Understand that "Football is fun!"
I mean think about it. A bunch of big, sweaty guys fighting over a small, brown ball -- just waiting to run it in to that thing called the "end zone." It's quite amusing if you think about it. And, it's quite enjoyablewhen you understand the game. So, take a moment and do one of these three things: go online, get with a girlfriend who knows about football, or ask your husband questions (just notduring the game) so that you can learn enough about football to communicate with your husband. Field Goal, Touchdown, Punt, Return . . . those are just a few words to get you started. Also, find out yourhusband's favorite team and read up on them in the Monday newspaper. Learn the QB(Quarterback)'s name then comment on how well you think he's doing. Your husband will smile from ear to ear when he realizes you know about something that's important to him. And even though you may not have three hours just to sit and watch a game, remember you can fold clothes, write letters, dust, etc. during your "quality" time with hubby. And who knows? He may even offer to help. . .which would be a great reason to install that TV in the bathroom . . . because after you do, you could always remind him that he can clean the toilet AND catch his important plays. Now, that sounds like a plan to me.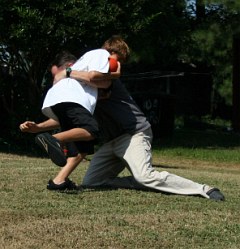 Step #2
Never forget, the way to a man's heart is through his stomach.
Next time your man is watching football, join him with a few quick and easy treats you just happened to whip up (or "Phone Up" depending on the kind of time you may have). Some great ideas are nachos with lots of cheese, pizza, pretzels with a variety of dipping sauces, hot wings, peanuts that need shelled, along with a refreshing beverage. Your honey will be so overwhelmed with gratitude that he will invite you to stay and more than likely even "cuddle" during the "huddle" . . .
Step #3
Always remember, football is not "the other woman".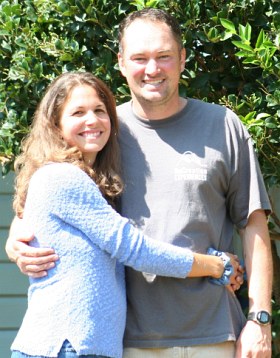 Some women feel jealous of that oddly shaped ball with nothing but brown leather and a white lace to hold it together. But. . . football is not "the other woman." You won your man fair and square. He loves you! He just needs to be reminded why you're the better choice. So. . . during a quick commercial break, give him a smooch and remind him why he married you. Maybe the next commercial break, blink your eyes, and smile sweetly, like you did before you were married. During halftime - well . . . you have 14 minutes for this one so use your own imagination. Finally, the last two minutes of the game is always pretty touch and go. So during those short little intervals. . . grab his attention with small but meaningful things like a back rub or foot rub. Whatever floats your boat, ships ahoy! Just know that YOU are your man's queen, and men can sometimes become easily distracted. So get him back on track. Remember, football comes around once a year. . . you are his constant. . . so sometimes he can forget that he's not paying enough attention to you.
But if you keep up these three winning ideas, you're sure to make yourself a Touchdown. . . and maybe even a Field Goal, too. Happy Football Season!
Copyright © 2008-2015 Cindy Aitken
Read more about the writer: Cindy Aitken
---
Post Your Comment...
---